Nuna Cari Next Carry Cot | 40-70cm | 0-9kg | 1 Year Warranty
Introducing the revolutionary Nuna CARI Next Carry Cot, the ultimate carry cot car seat that will make your dreams come true – and your baby's dreams too! This remarkable Nuna Cari Next Carry Cot offers unparalleled comfort and safety, ensuring your little one experiences a peaceful and cozy journey.
The Nuna CARI Next Carry Cot is designed with your baby's well-being in mind. Its full recline feature allows your baby to rest in the best position for their developing spine, promoting healthy growth. The Nuna CARI Next Carry Cot is crafted with premium materials, including an organic jersey mattress and infant inserts, ensuring maximum comfort during their travels.
Safety is of the utmost importance, which is why the Nuna CARI Next Carry Cot is equipped with a three-point harness to secure your baby in place while on the move. This innovative system is also compatible with the NEXT™ system, providing seamless transitions from home to car to pushchair, offering convenience for parents on the go.
Say goodbye to interruptions in your baby's snuggly sleep! The Nuna CARI Next Carry Cot effortlessly doubles as a car seat and a carrycot, allowing your little one to lie flat and continue their peaceful slumber, no matter where life takes you.
Embrace the next level of comfort, safety, and convenience with the Nuna CARI Next Carry Cot – the perfect companion for both you and your baby's journey through dreamland.
NEXT system
compatible:
The NEXT system offers ultimate flexibility with four solutions for the first four years, conveniently using one base for all compatible products.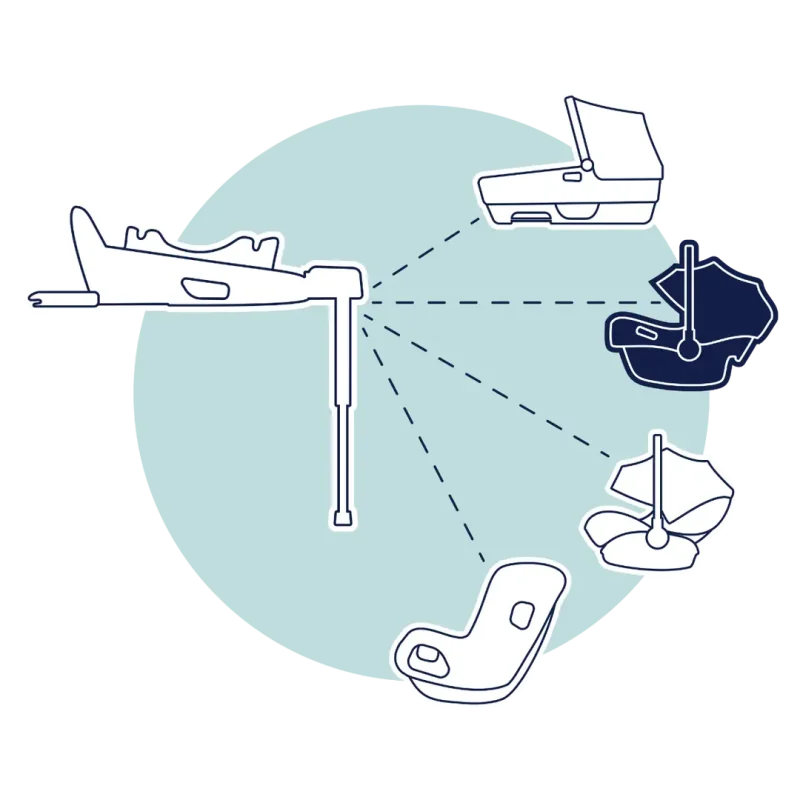 3-point harness system
ensures a secure ride by keeping your baby in the safety zone of the shell.
Luxe leatherette
carry handle.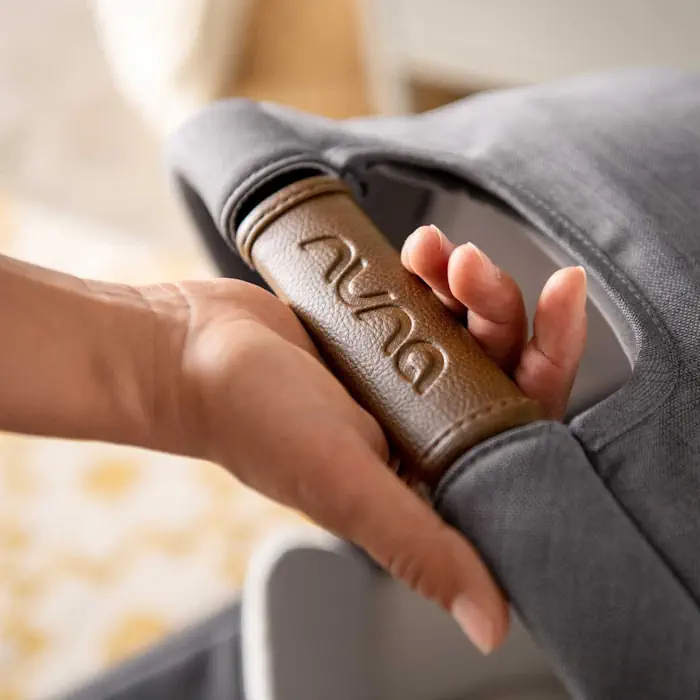 Lightweight, protective, and portable at only 3.6 kg
A convenient travel system with easy connection to adaptor-friendly Nuna pushchairs
Lightweight and resilient shell with integrated EPP foam for maximized energy absorption on impact
Carry cot allows for full recline – the best position to support spine development
Luxe leatherette carry handle
Full coverage, UPF 50+ canopy with a peek-a-boo window for checking in on baby
Dream drape™ pulls down smoothly and attaches quietly with magnets because nothing beats an uninterrupted nap
The 3-point harness system ensures a secure ride by keeping the baby in the safety zone of the shell
Infant inserts made of organic jersey keep them snug and supported and when the baby outgrows, they easily remove
Organic jersey mattress
Soft mattress with cover is machine washable
True lock™ base installation technology makes set up swift, simple, and secure using the vehicle's ISOFIX anchor points
The Crumple zone within the stability leg absorbs impact and minimizes the force on the baby
Resilient, shock-absorbing plastics in the base reduce force to keep the baby safe
10 ISOFIX positions allow a custom fit on your vehicle seat
Relax knowing that only the finest GOTS-certified organic cotton textiles, grown without the use of harmful pesticides and toxins, surround your little one
PRODUCT SPECIFICATIONS
RECOMMENDED USE:
Lateral positioning
Child height: 40-70 cm
Up to 9 kg
Complies with European standard: ECE R129/03
Factory-certified ISO 14001 ISO 9001 OHSAS 18001
WEIGHT: 3.6 kg
Dimensions: L 81 x W 44 x H 59 cm