Chicco MYSA Stroller | 0-22kg | 1-Year Warranty
The Chicco MYSA stroller is a perfect blend of style and functionality. This contemporary and trendy stroller is designed to cater to the needs of modern parents. With its sleek appearance and practical features, it is a true standout in the world of baby strollers.
The MYSA stroller is suitable for newborns up to 22kg, making it a versatile choice for parents with growing children. Its adaptable seat can be effortlessly adjusted to face either forward or rearward, providing flexibility and convenience. Additionally, the seat offers full reclining functionality, ensuring optimal comfort for your little one.
Designed with both aesthetics and comfort in mind, the Chicco MYSA stroller boasts a spacious seat that allows babies to relax and enjoy their ride. Crafted from premium materials, it exudes luxury and durability. The cushioned wheels provide a smooth and gentle glide, making every stroll a delightful experience for both parent and child.
With its modern and fashionable design, the Chicco MYSA stroller is sure to turn heads wherever you go. It effortlessly combines style and practicality, making it the ultimate choice for parents who refuse to compromise on either. Say hello to a stroller that not only meets your needs but also makes a statement wherever you take it.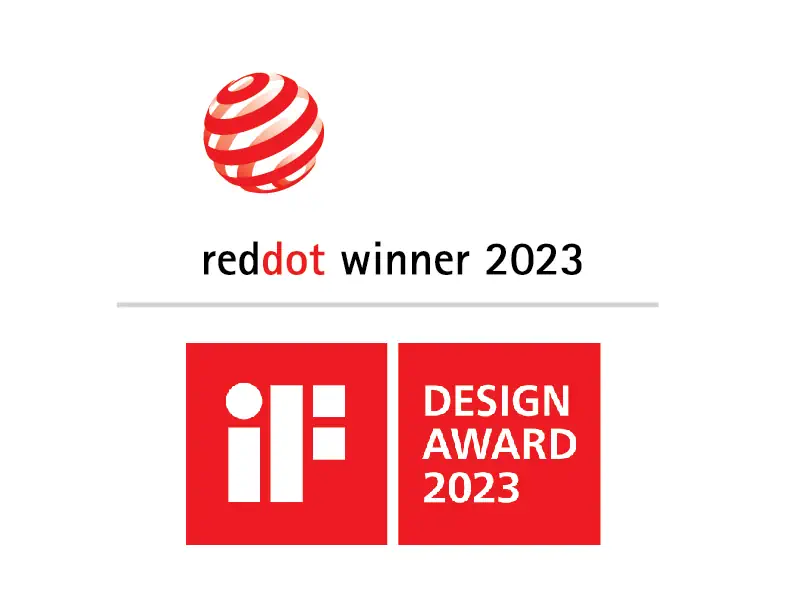 REDDOT DESIGN AWARD 2023
It's a prestigious award for those products that meet exceptional standards of design and quality.
IF DESIGN AWARD
iF Design is known for outstanding design and social engagement.
HOMOLOGATED FROM BIRTH
Chicco Mysa stroller is suitable for use from birth up to 4 years, thanks to its one-hand fully reclinable seat. This allows you to effortlessly adjust the seat to the perfect position, providing a cozy and secure space for your little one to relax and nap.
For enhanced interaction and bonding, the seat can be easily changed to face you, allowing you to keep a close eye on your baby during your strolls. Additionally, the handle and legrest can be adjusted to ensure optimal comfort for both you and your child, adapting to their growing needs.
When it comes to portability, the Chicco Mysa stroller excels. With its convenient one-hand folding mechanism, you can effortlessly collapse the stroller into a compact and lightweight package, weighing only 9 kg. This makes it incredibly easy to transport and store, whether you're navigating busy streets or traveling with your little one.
Experience the Chicco Mysa stroller, a reliable and adaptable companion that grows with your child while offering effortless handling and portability for parents on the move.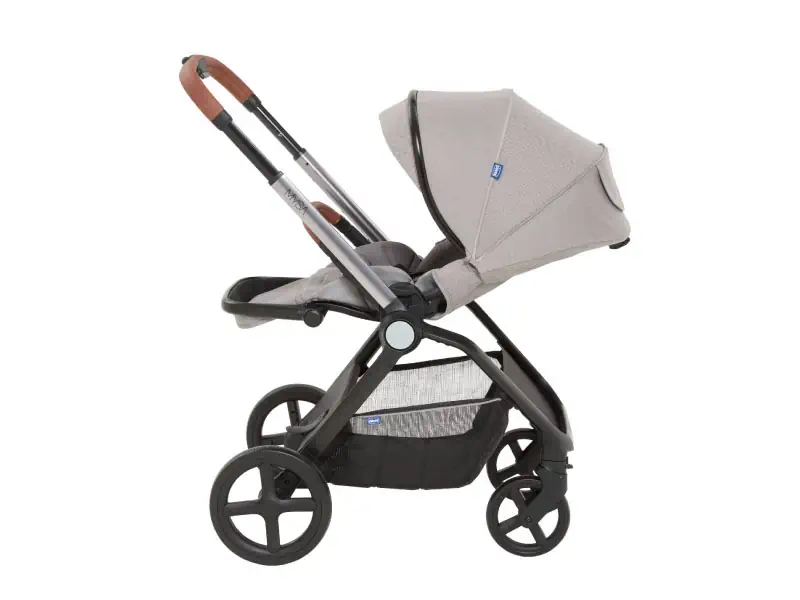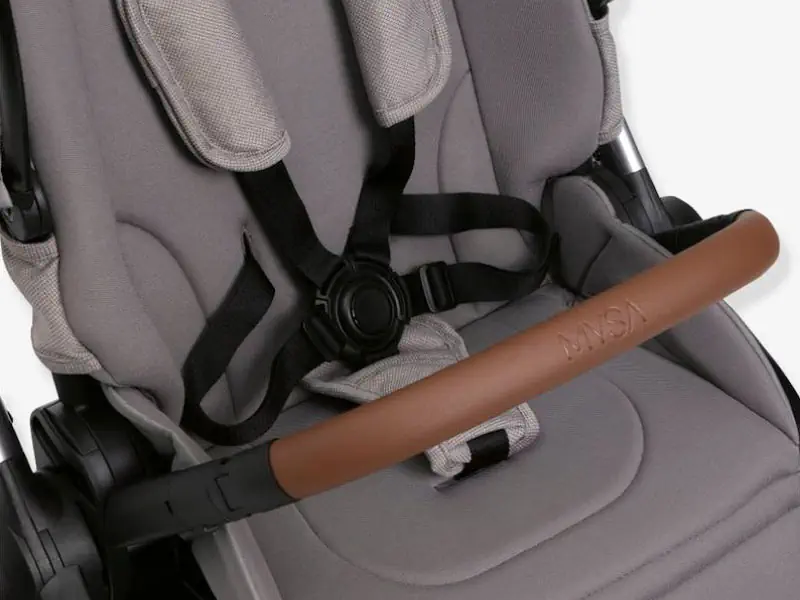 PRACTICAL AND COMFORTABLE
Chicco  MYSA stroller is designed to provide ultimate comfort for babies, encompassing a range of features that prioritize their well-being. The stroller boasts a spacious seat equipped with 5-point height-adjustable harnesses, ensuring maximum safety and security for your little one.
To ensure a smooth and comfortable ride, Chicco MYSA stroller is equipped with shock absorbers and ball bearings in all four wheels. These features effectively absorb shocks and provide a seamless glide, allowing your baby to enjoy a bump-free journey.
The stroller also features an XL extensible canopy, offering ample coverage and protection from the elements. It is equipped with a convenient peek-a-boo window, allowing you to keep an eye on your baby while shielding them from harsh sunlight. The canopy is treated with UV50+ and water-resistant coatings, ensuring added protection against harmful UV rays and unexpected drizzles.
With Chicco MYSA stroller, your baby's comfort is our top priority. From the wide seat and height-adjustable harnesses to the shock-absorbing wheels and weather-resistant canopy, every detail is carefully designed to create a cozy and secure environment for your little one.
HOMOLOGATED FROM BIRTH
The design of the Chicco Mysa stroller is crafted to make a statement in elegance and style. With anodized colored tubes and coated fabric details, it exudes a sense of sophistication. The coordinated premium fabrics further enhance its luxurious appeal.
Not only does the Chicco Mysa stroller offer a visually pleasing aesthetic, but it also provides a multitude of benefits. Its sleek design seamlessly combines the look you love with practical advantages. The premium fabrics used in its construction ensure durability and comfort for both parent and baby.
Experience the Chicco Mysa stroller, where elegance and style converge with functionality and quality materials, providing you with a stroller that not only catches the eye but also delivers the utmost benefits for you and your little one.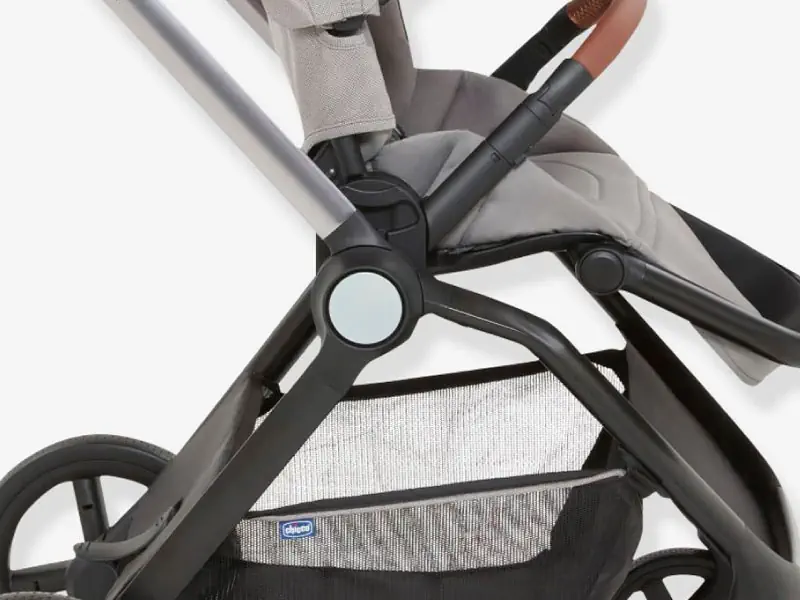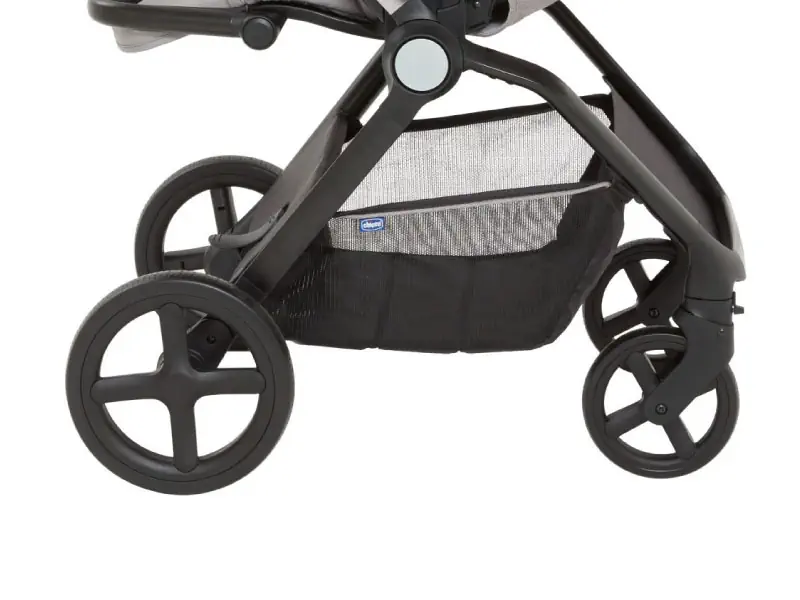 WHEELS
Experience comfortable outdoor adventures with the Chicco Mysa stroller's high-quality wheels, featuring shock absorbers and ball bearings in all four wheels.
The Chicco Mysa stroller is equipped with wheels designed to provide a smooth and comfortable ride, even on uneven terrains. The integrated shock absorbers effectively minimize the impact of bumps and vibrations, ensuring a comfortable experience for your baby.
With ball bearings in all four wheels, the Chicco Mysa stroller offers effortless maneuverability and smooth gliding motion. Whether you're navigating city sidewalks or exploring nature trails, these wheels enhance the stroller's overall performance, making your outdoor adventures a breeze.
Enjoy the freedom to explore with the Mysa stroller, knowing that your little one will experience a comfortable and enjoyable ride, thanks to its high-quality wheels with shock absorbers and ball bearings.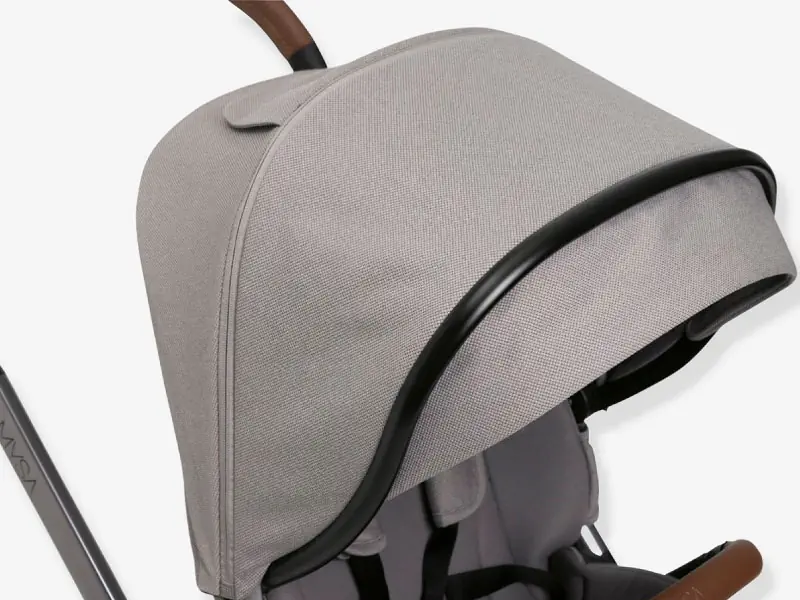 XL CANOPY
With the XL canopy of the Chicco Mysa stroller, you can ensure the perfect shade for your little one's daily naps. Designed to provide ample coverage, the canopy offers a shield from the sun's rays, creating a comfortable environment for your baby to rest.
The canopy is not only generous in size but also features UV50+ protection. This provides an added layer of defense against harmful ultraviolet rays, safeguarding your baby's delicate skin from potential sun damage.
Additionally, the canopy is treated with a water-resistant coating, ensuring that it can withstand unexpected drizzles or light showers. This feature allows you to venture out in various weather conditions, knowing that your baby will remain dry and comfortable.
Experience the versatility and comfort of the Chicco Mysa stroller's XL canopy, offering optimal shade and protection for your baby throughout the year. Its UV50+ and water-resistant treatment provide peace of mind and a comfortable environment for your little one's daily adventures.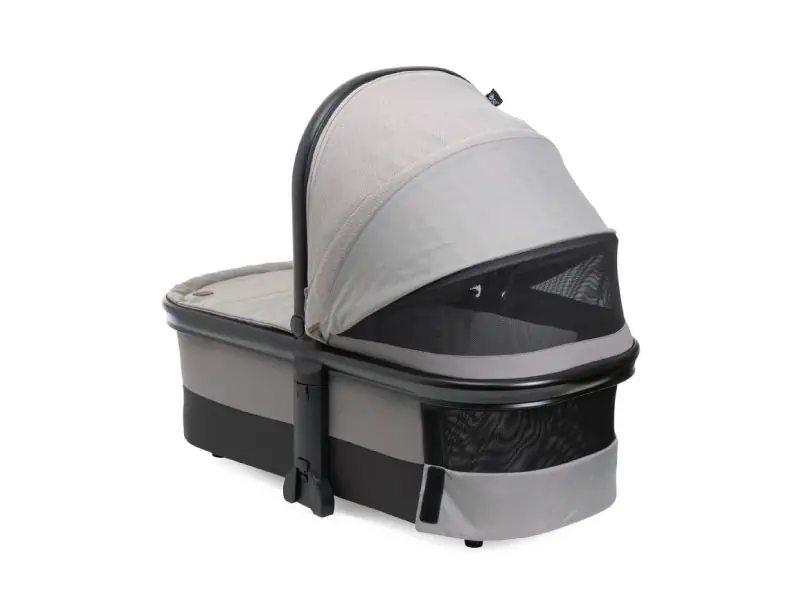 AIR CIRCULATION SYSTEM
The Mysa Carrycot (sold separately) introduces an innovative air circulation system designed to keep your baby cool and comfortable on hot summer days. This system incorporates two mesh openings that promote extra ventilation, ensuring optimal airflow within the carrycot.
For enhanced ventilation, the lower part of the canopy can be opened, allowing fresh air to circulate freely. Additionally, the base of the carrycot can also be opened, providing an extra opening to further increase air circulation and maintain a pleasant environment for your little one.
With the Mysa carrycot's thoughtful design, you can rest assured that your baby will experience ample ventilation and airflow, even during the hottest days. The air circulation system, coupled with the adjustable openings, allows for a refreshing and breathable space, ensuring your baby's comfort and well-being.