MAM Easy Active Baby Bottle | 270ml | 330ml
Top-quality MAM Easy Active Baby Bottle bottle with a unique design
Spill-proof lid protects feeding bottle from dirt and doubles as a measuring cup
Baby approved: 94% of babies* accept the MAM Teat, thanks to its SkinSoft surface
The MAM Silk Teat has a unique flat shape and fits perfectly in the baby's mouth for a familiar feeling
The MAM Easy Active Baby Bottle's ergonomic design makes it easy and comfortable to hold even with small hands
Wide openings for easy bottle filling and cleaning
Available Size:
270ml (with Size 2 Teat)
330ml (with Size 3 Teat)
Available Packing: Single Pack, Twin Pack
---
Easy for tiny hands to hold
The MAM Easy Active Baby Bottle has an ergonomic shape that is easy for both babies and parents to hold.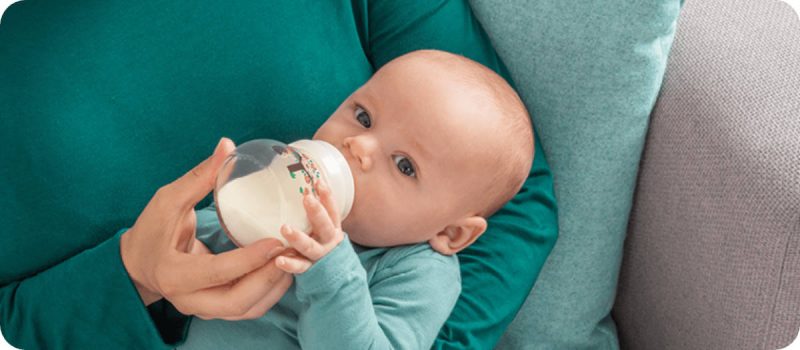 ---
SkinSoft Silicone Teat feels like mom's breast when breastfeeding
Babies love the feeling of soft skin. That's why the MAM Teat was developed with its special SkinSoft silicone surface. It feels smooth and ultra soft, just like mom's skin. The flat teat is shaped like mom's nipple during breastfeeding and therefore fits perfectly in baby's mouth. This makes switching between breast and bottle feeding so much easier.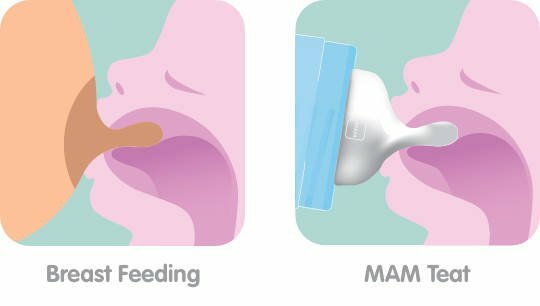 ---
The perfect combination: MAM bottle and pacifier
The exclusive MAM SkinSoft™ Silicone is superior to standard silicone. Our ultra soft silicone has been developed to feel like skin, no other silicone feels softer.
Extensive research confirms: 94%* of babies happily accept the MAM SkinSoft™ Silicone.
MAM Pacifiers use the same SkinSoft™ Silicone material and are therefore the perfect combination for a happy and relaxed baby. Make sure you don't miss our pacifier offers.
* Market research 2009–2017, tested with 1,508 babies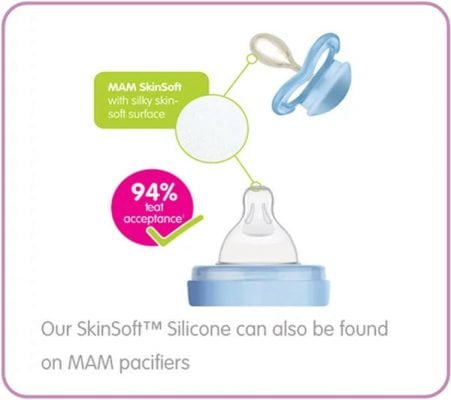 ---
Best fit with MAM Silk Teats