Joie Tourist Stroller | 0-15kg | 1-Year Warranty
Introducing the Pack along Pal Joie Tourist Stroller, designed to pamper your littlest adventurers with an array of precious perks. This Joie Tourist Stroller is equipped to handle long journeys effortlessly, offering compatibility with both a carrycot and an infant car seat, ensuring your tiny one is snugly accommodated during all your expeditions. From infancy to beyond, this tiny traveler elevates everyday adventures with its versatility and style. It seamlessly transitions from holding the Joie Ramble Carrycot and your preferred Joie infant carrier* to transforming into a sleek, fully-featured pushchair.
(Please note that the Joie Ramble Carrycot and infant carrier are sold separately).
Despite its feature-rich design, this Joie Tourist Stroller remains impressively lightweight, weighing in at just under 6kg, making it one of the lightest fully-featured pushchairs available. Its user-friendly one-step, hands-free fold system allows for effortless collapsing, creating an incredibly flat fold package that takes up minimal space when stored. Say goodbye to the hassle and hello to convenience with this charming and compact buggy.
Designed to cater to your baby's needs right from birth, this Joie Tourist Stroller boasts a flat reclining seat for ultimate comfort. It seamlessly pairs with Joie infant carriers or other infant carriers using Maxi-Cosi® style attachment, ensuring a convenient travel solution. Additionally, it perfectly complements the Joie Ramble™ carry cot for added versatility.
With easy one-click adapters, you can effortlessly connect the stroller with gemm™, i-Gemm™ 3, i-Snug™ 2, and i-Level™ Recline infant carriers without requiring any adjustments. The Joie Tourist Stroller can be easily removed, transforming it into a sleek and straightforward travel system.
When it comes to folding, the stroller offers a two-step, hands-free fold, making it a breeze to collapse and store. Its freestanding feature when folded adds to the convenience. For travel ease, a carry strap and custom carry bag are included, ensuring you're ready to go.
To shield your little one from the elements, the stroller features a full-size UPF50+ canopy with an eyeshade visor. The multi-position recline allows for various backrest tilt options, accommodating your child's comfort needs.
Safety and security are paramount, and the Joie Tourist Stroller delivers with a removable, fabric-covered bumper bar and a soft-touch, 5-point harness. The 2-position calf support ensures a cozy ride, while the full-size, easy-access shopping basket provides ample space for your essentials.
For a smooth and enjoyable journey, the Joie Tourist Stroller boasts all-wheel suspension and Sweet Stride™ single front swivel wheels. When it's time to stop, the one-touch brake offers simple and reliable control. With this stroller, you can rest assured that you and your little one will enjoy every adventure with comfort and convenience in mind.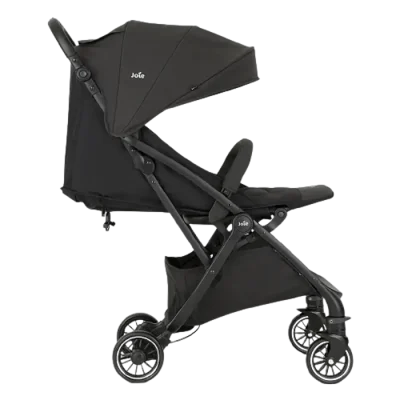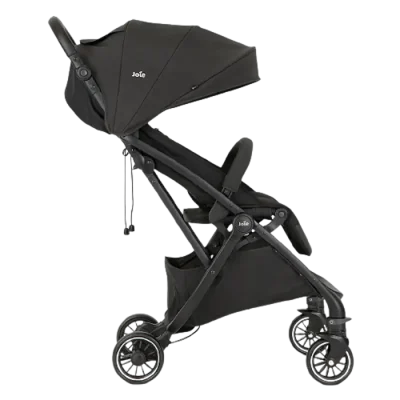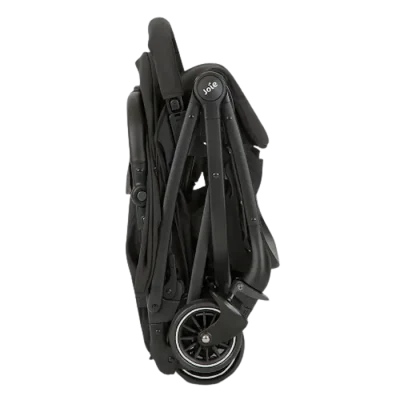 Suitable from birth with a flat reclining seat
Pairs perfectly with Joie infant carriers, or with other infant carriers using Maxi-Cosi® style attachment
Pairs perfectly with the Joie ramble™ carry cot
Easy one-click adapters pair with , gemm™, i-Gemm™ 3, i-Snug™ 2 and i-Level™ Recline infant carriers no
adjustment needed
Pushchair removes for a sleek and simple travel system
wo step, hands-free fold
Freestanding when folded
The carry strap and custom carry bag are all-inclusive and ready for travel
Full-size UPF50+ canopy with eyeshade visor
Multi-position recline for backrest tilt options
Removable, fabric-covered bumper bar
2-position calf support
Full-size, easy-access shopping basket
All-wheel suspension for a smooth ride
Sweet Stride™ single front swivel wheels
One-touch brake
SoftTouch, 5-point harness
Locking front swivel wheels
Model: S1706D
Product Weight: 6.6kg
Product Open Size: l 83.1 x w 47.1 x 106cm
Product Folded Size: l 66.1 x w 47.1 x h 24.3cm
Product Usage: Birth to 15kg