Clevamama Clevasleep Pod | 0M+
Introducing the
Clevamama
Clevasleep Pod, a lightweight and portable solution that provides convenience wherever you go—whether it's around the house, for overnight stays, or for those well-deserved breaks away.
The inner mattress of the Clevamama Clevasleep Pod is crafted using our advanced ClevaFoam technology. Scientifically proven to support and protect your baby's rapidly growing little body, it aids in the development of their joints and helps maintain the round shape of their soft head, thus reducing the risk of Flat Head Syndrome (
Plagiocephaly
). This research has been conducted by Trinity College, University of Dublin, Ireland.
Rest assured, the Clevamama Clevasleep Pod is CERTIFIED asthma and allergy friendly by Allergy Standards Ltd. The unique open-cell structure of the Clevamama Clevasleep Pod allows for 100% breathability while significantly reducing heat retention. Not only that, but it is remarkably lightweight, ensuring your baby's comfort and safety. The pod is hypoallergenic, pH balanced, toxin-free, and formaldehyde-free, making it suitable for babies with asthma and allergies.
The Clevamama Clevasleep Pod boasts inner dimensions of 24 x 63 cm and outer dimensions of 52 x 87 cm, providing a snug and cozy space for your little one to relax, nap, and play.
Experience the convenience, comfort, and peace of mind that the ClevaFoam pod offers for you and your baby.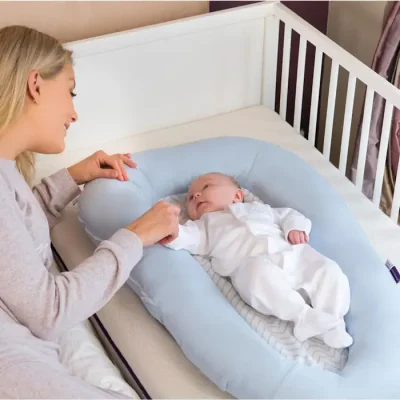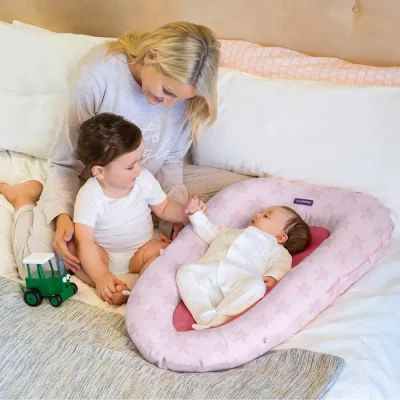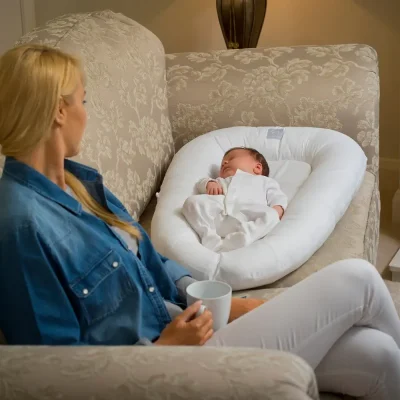 Key Features:
Promotes Rest and Support: The product is designed to provide your baby with restful sleep and support their growing body needs during the crucial early months.
ClevaFoam Mattress Base: The product features a ClevaFoam mattress base, which helps protect and support the round shape of your baby's soft head. This innovative material offers comfort and proper alignment while minimizing pressure on delicate areas.
Breathable and Hypo-allergenic: The product is made with breathable and hypo-allergenic materials, making it suitable for babies with asthma or allergies. It promotes a comfortable and safe sleep environment.
Lightweight and Portable: The product is lightweight and easily portable, allowing you to provide a familiar and cozy sleep space for your baby both at home and while traveling.
Versatile Design: The product is designed to serve multiple purposes. It can be used for tummy time, nappy-changing, playing, and, of course, for plenty of cuddles. It offers a versatile solution for various daily activities.
Suitable for Ages 0-6 Months: The product is suitable for babies from birth up to approximately 6 months of age, providing an ideal sleep and rest solution during this early developmental stage.
These features make the product a practical and comfortable choice for your baby's sleep, rest, and playtime needs. It provides a supportive and safe environment while offering versatility and ease of use for parents.