Babyhood Valencia Rocking Chair With Ottoman & Pillow
Luxuriously Stylish
Fully upholstered with premium woven textiles that are easy to clean.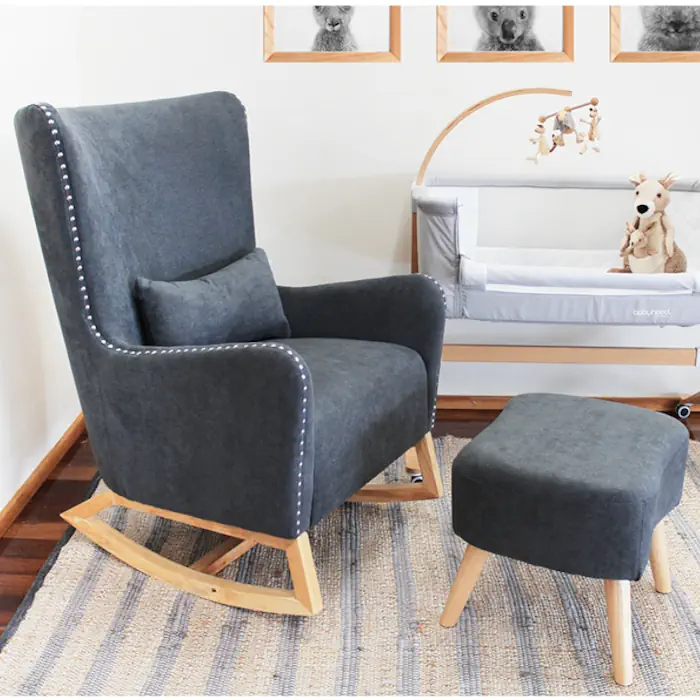 Rock or Hold Steady
Two base options: strong beechwood rocking blades or fixed cone legs, which are perfect when your baby starts to crawl.
High Wingback Silhouette For Your Support
Not only stylish but comfortable with extra lumber and neck support for you during feeding.
Rock Safely
A wide European beechwood rocking blade that ensures a smooth gentle rock for you, with no tipping over.
Features
Luxurious fully upholstered micro suede chair with a gentle rocking motion
Interchangeable base with either strong beechwood rocking blades or fixed cone legs, whichever suits your growing family
Rockstar metal accents
Stylish wingback silhouette
Optional ottoman and plush lumbar support pillow
Easy-to-clean durable fabric
Valencia Rocking Chair
The most luxuriously stylish feeding chair for your home, that will gently rock you and your baby for many blissful moments together.
Introducing the babyhood Valencia Rocking Chair – your gateway to transforming any corner of your home into the ultimate escape for you and your precious little one. This chic and trendy chair is a modern take on the classic wingback silhouette, exuding elegance and comfort that will enhance any room's ambiance. Crafted with meticulous attention to detail, the Valencia Rocking Chair boasts a myriad of rockstar accents, setting it apart from ordinary seating options.
Let's delve into the remarkable features that make the babyhood Valencia Rocking Chair a must-have for every parent. Starting with the design, this Babyhood Valencia Rocking Chair is thoughtfully created to cater to all your baby's feeding time needs and remain an essential piece of furniture in your home for years to come. The high back provides excellent head and neck support, ensuring a comfortable experience for both you and your baby during feeding sessions. Moreover, the super cool wingback design offers additional side support, enveloping you in a cozy embrace as you bond with your little one.
The magic of the Babyhood Valencia Rocking Chair lies in its versatility. It comes with interchangeable bases, giving you the freedom to choose between beechwood rocking blades or four beechwood fixed cone legs. As your family grows and your needs evolve, this adaptable chair will always have a suitable configuration to meet your preferences.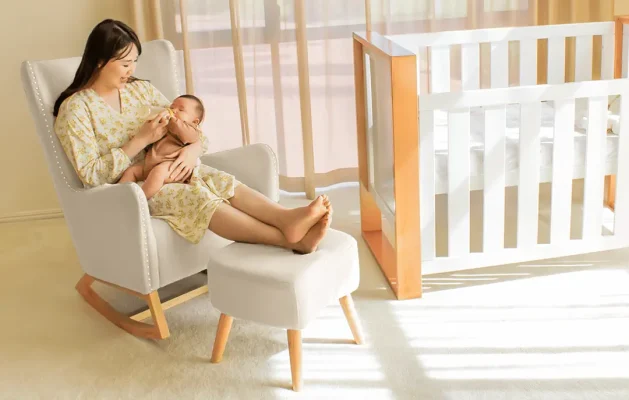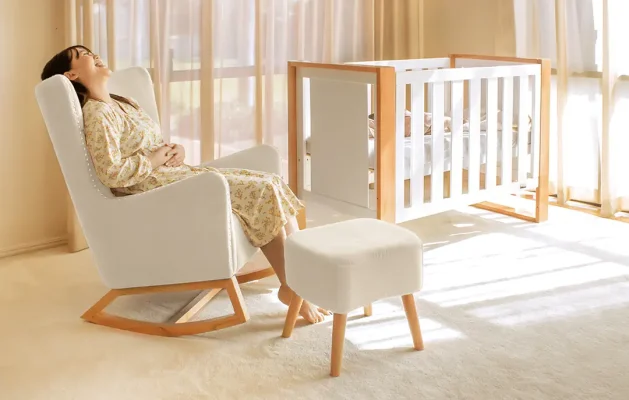 Comfort takes center stage in the Babyhood Valencia Rocking Chair. Its well-padded seat cushion and curvaceous backrest provide an ergonomic design that cradles your body in a gentle embrace, allowing you to feed, calm, or bond with your baby in total comfort and style. Each rocking motion is smooth and tranquil, creating a soothing atmosphere for both you and your little one.
To elevate your comfort to the next level, the  Babyhood Valencia Rocking Chair comes with a complementing upholstered ottoman, featuring charming beechwood accents. Rest your tired legs on the ottoman while you rock your baby to sleep or use it as a cozy footrest during moments of relaxation. Additionally, a matching lumbar pillow accompanies the chair, offering extra back support when needed. With this comprehensive support system, the chair ensures that your physical well-being is a top priority.
Say goodbye to bulky, old-fashioned rocking chairs or flimsy metal chairs that offer no solace during those long feeding hours. The Babyhood Valencia Rocking Chair redefines the feeding chair experience by blending functionality, style, and durability seamlessly. No more annoying poles poking through the cushions or unsightly designs that clash with your home decor. Instead, you have a plethora of choices that blend harmoniously with your interior aesthetics while catering to the needs of both you and your baby.
At babyhood, we understand that every parent deserves the finest when it comes to their baby's well-being and their personal comfort. Therefore, we meticulously craft each piece with your needs in mind. Our feeding chairs are designed to provide optimal support to your body during those frequent feeding sessions that occur every 2-4 hours each day. Our commitment to quality and functionality ensures that you never have to compromise style for comfort.
In conclusion, the Babyhood Valencia Rocking Chair is the epitome of sophistication, functionality, and comfort. Its modern design, metal studs, and beechwood accents elevate its visual appeal, making it a show-stopping centerpiece in any room. Its thoughtful features, such as interchangeable bases, high back, and wingback design, cater to your and your baby's needs at every stage. With the included ottoman and lumbar pillow, the chair becomes your oasis of relaxation, granting you well-deserved moments of tranquility.
Investing in the babyhood Valencia Rocking Chair is not just acquiring a piece of furniture; it's embracing a lifestyle of comfort, style, and love for you and your baby. Say hello to the ultimate escape for you and your little one – a sanctuary where cherished moments are created and memories are woven into the fabric of your life. Experience the difference with the babyhood Valencia Rocking Chair and let it redefine the way you bond with your baby and indulge in moments of peace and serenity.
Assembled Dimension
Chair – height – 104cm, width – 72cm, depth – 90cm
Ottoman – height – 46cm, width – 48cm, depth – 41cm
Carton 1
W73 x L89 x H84cm
Fabric Type
Premium Woven Textiles
Weight Limit
Up to 120kg
Assembly Instructions
Please contact us
Product Care & Warranty
Do not remove cover.
All spills must be promptly cleaned.
Spot clean with mild upholstery shampoo.
Do not saturate with liquid.
Test shampoo in an inconspicuous area, before use to avoid colour run or damage.
Do not use coloured cloth or anything abrasive.
Do not dry clean.
For further information see your product packaging.