Babyhood Diva Glider Chair | Nursing Chair | Max 95kg
The Babyhood Diva Glider is an extraordinary seating solution specifically designed for the delicate moments of feeding your baby. This superior Babyhood Diva Glider has been designed with meticulous attention to detail to provide a smooth gliding motion that is more comforting and natural for both you and your little one, rather than the unsettling rocking sensation often felt with traditional rocking seats.
This specialized Babyhood Diva Glider is designed to provide optimal support to your body during the repetitive process of feeding every 2-4 hours each day. Babyhood Diva Glider is equipped with a reclining function, which helps you to sit back and effortlessly glide both you and your baby into dreamland – providing a much-needed alternative to pacing the floors when your baby needs soothing.
Unlike bulky, traditional recliners that are challenging to fit in a nursery and even more difficult to climb out of after each feed, our Babyhood Diva Glider is compact and convenient. Their smart design enables effortless lifting back to a full seating position, allowing you to easily step off, even while holding your baby. This feature is especially important for new mums, as our bodies often require some assistance to sit up from a chair post-delivery.
Built with a smooth gliding motion and a lockable recline, the Babyhood Diva Glider's seat is adjustable, ensuring that you are always in a comfortable position that caters to your body's needs. There is no heavy jerking while you recline, an unfortunate feature of many cheaper imitations.
Our Babyhood Diva Glider offers long-term comfort, with quality padding integrated into the chair design to prevent the discomfort of feeling the metal frame in your back or bottom. The matching gliding ottoman (included in the package) further enhances the gentle gliding motion, adding to the sensation of floating on air.
With a stylish Frame Drape to conceal the underside of the frame, your space retains its style and elegance. Each of our Babyhood Diva Gliders has a unique style but is also tailored to fit your body.
Explore our range of quality gliders and ottomans and find the one that best suits your body shape and provides the perfect feeding chair for you. The Diva Feeding Glider Chair & Ottoman, specifically, offers medium lumbar support with a wider lower back support, making it an excellent choice for parents who require less lumbar padding and prefer a lower backrest. The chair's compact design enables it to fit effortlessly in any home, and its affordability makes it a prime choice.
With the Babyhood Diva Glider from the babyhood range of Feeding Glider Chairs & Ottomans, you no longer need to compromise on your comfort during those precious feeding moments.
Support For You
Let the pressures of parenting slip away as you glide effortlessly in your chair, with your lower back well supported with lumbar support and your arms, neck and shoulders supported with extra contoured cushioning.

Perfect for Breastfeeding
A large padded seat and wide arm support help you to position a babyhood Nursing Pillow perfectly on your lap so your baby is well supported for latching easily to your nipple, during breastfeeding.

Lift Your Feet and Take a Load Off
A smooth gliding ottoman is perfect for resting your tired legs and then gently push the back rest to activate the recline feature, so you can slip into a dreamland for an afternoon nap.

Glide Effortlessly
A more gentle movement to rocking, this gliding motion keeps you at equilibrium for longer.

360° Swivel
So it not only gives you the most amazing gliding experience but with its 360-degree swivel you will have full access to your surroundings, making it especially helpful if you need to have an eye on your toddler.

Effortless Recline & Step Off
With a smooth lockable recline, the Babyhood Diva Glider's seat is fully adjustable to ensure you are always in a comfortable position for your body's needs. Best of all, you don't need an extra hand as it effortlessly lifts you back to a full seating position, so you can easily step off, with your baby in your arms.

Compact
The chair's compact design allows the Diva to easily fit into smaller spaces, and be manoeuvred around your house with ease.

Medium Lumbar Support
Considerable lumbar support, with a wider lower back support for parents who don't require as much lumbar padding and would prefer a lower back rest.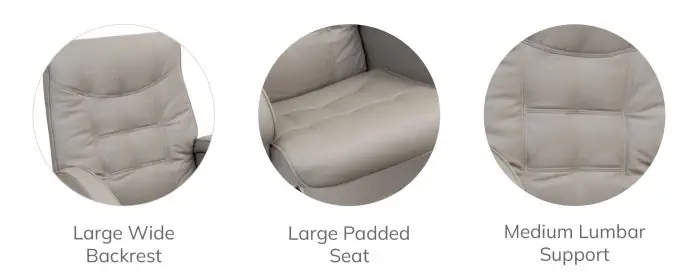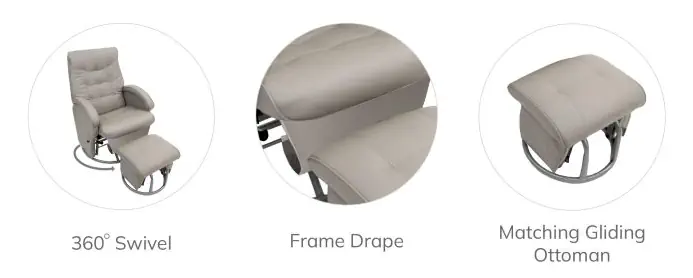 Features
Compact for smaller spaces
Lower profile chair
Large wide backrest
Large padded seat
Medium lumbar support
Raised rounded arms
Smooth glide
Effortless recline
Lockable recline
Hands free lift for easy exit
360 degree swivel
Frame drape
Easy clean wipe down fabric
Scratch and stain resistant fabric
Matching gliding ottoman
Available in Charcoal and Ice Grey
To enhance your nursing or feeding experience with your baby, the babyhood Nursing Pillow with Toybar are designed specifically for our Babyhood Diva Glider, to ensure that feeding time with your baby is both pleasurable and comfortable for baby and you, each and every time.
Be sure to add one to your purchase as they will enhance your feeding experience, making breastfeeding easier, as you and your baby are better supported.

Our Babyhood Diva Glider Chair & Ottoman are independently tested to:
• AS/NZS 4688.4:2000 Furniture – Fixed height chairs: Determination of stability – Chairs with tilting or reclining mechanisms when fully reclined, and rocking chairs
• AS/NZS 4688.3:2000 Furniture ― Fixed height chairs: Determination of stability ― Upright chairs
The fabric is also independently tested to ISO 14184-1:2011 – Formaldehyde Content by STC Shanghai Company
Assembled Dimension
Chair – height – 102cm, width – 75cm, depth – 65cm
Ottoman – height – 39cm, width – 47cm, depth – 48cm
Carton 1
W76 x L67 x H62cm
Fabric Type
Leatherette available in Ice Grey
DuPont Teflon Fabric available in Charcoal Grey
Weight Limit
Max Total Limit 95kg – including baby and any accessories
Assembly Instructions
Product Care & Warranty
Do not remove the cover.

Do not unzip the cushion padding

All spills must be promptly cleaned with a clean slightly damp cloth.

Spot clean with mild upholstery shampoo fabric model only.

Do not saturate with liquid.

Test shampoo in an inconspicuous area, before use to avoid colour run or damage fabric model only.

Do not use coloured cloth or anything abrasive.

Do not dry clean.

For further information see your product packaging.