Autumnz LACY Deluxe Disposable Breast Pads | 36pcs / box
Specially designed with breastfeeding mother's comfort in mind.
Features:-
Super absorbent : Locks in moisture for optimum dryness and comfort
Soft and breathable waterproof film: Keeps clothing protected
Thin & lightweight : Help mums look and feel great between breastfeeds
Autumnz LACY Deluxe Disposable Breast Pads has contoured 3D shape cup : Provides perfect and discreet fitting
Symmetrical protective groove : Prevent leakage from the sides.
Double adhesive tape : Non-slip tapes to to keep pads in place
Perfect fitting : Fits well for all bra sizes
Lovely lace trim : Adds a touch of feminine flair to practically
Individually packed : For hygiene and convenience
Available in 36pc in each box
Notes: For hygiene purpose mothers are advised to change breast pads often.
Packing: 36pcs / Box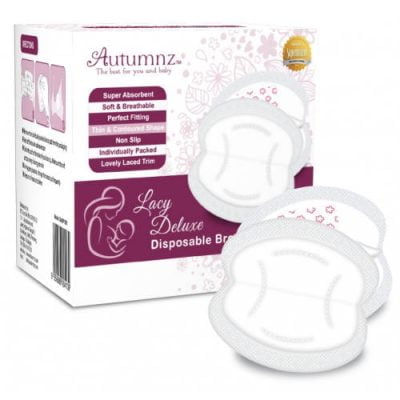 ---
#breastpads