Thermos Basic Living Flask With Pouch | Thermocafe
Come with cup Come with cup lets you enjoy your beverage anywhere.
Contoured Body Comfortable to hold.
Beverages Suitable for Hot & Cold Beverage
18/8 stainless steel Unbreakable 18/8 stainless steel interior and exterior withstand the demands of everyday use.
Double Wall Design Stay cool to the touch with hot and sweat-proof with cold
5 Years Warranty 5 Years Warranty for Manufacturing Defect.
Easy Portability Comes With Pouch for travel easy.
---
Thermos Basic Living Flask With Pouch 500ml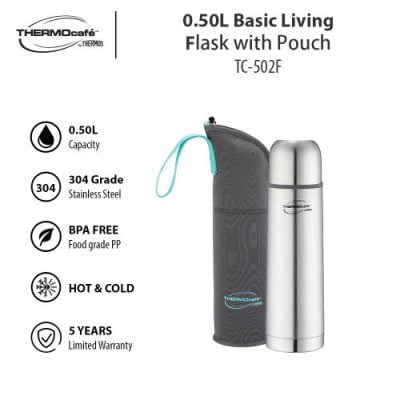 Model: TC-502F
Capacity: 0.50L
Product Size(cm) L x W x H: 7.7 x 7.7 x 26.4
Product Weight (kg): 0.39
Packaging Dimension (cm) L x W x H: 8 x 8 x 27.2
Weight included packaging (kg): 0.45
Hot Retention (6 Hours): Above 79 Degree C
Cold Retention (6 Hours): Below 10 Degree C
Color: Stainless Silver
---
Thermos Basic Living Flask With Pouch 1000ml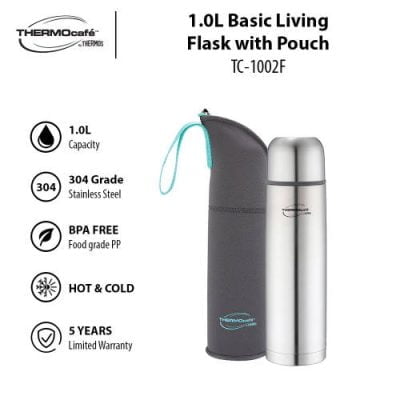 Model: TC-1002F
Capacity:1.0l
Product Size(cm) L x W x H: 8.5 x 8.5 x 31
Product Weight (kg): 0.60
Packaging Dimension (cm) L x W x H: 9.5 x 9.5 x 33
Weight included packaging (kg): 0.45
Hot Retention (6 Hours): Above 79 Degree C
Cold Retention (6 Hours): Below 10 Degree C
Color: Stainless Silver