Pureen Toothbrush
a. Baby Toothbrush | 0-2 Years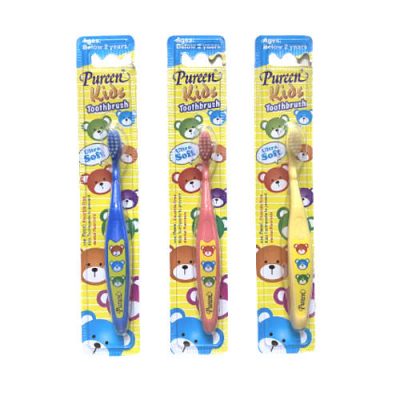 Mini-brush head that fits in kid's smallmouth.
Ultra-soft and well-end-rounded bristles are made of DuPont Tynex nylon filaments for gentle cleaning and protecting kids' delicate gum and teeth.
The handle is ergonomically designed for a better and more comfortable grip, ensuring good control while brushing.
Handle with colourful designs makes teeth brushing fun for kids.
Dentists recommend replacing your child's toothbrush every 3 months.
For kids of age below 2 years.
Available in assorted colours, ie. white glitter, orange glitter, green glitter, and blue glitter.
Note: Assorted Colours
b. Toddler Toothbrush | 2-6 Years | 6-12 Year
Small & Compact Brush Head
Pureen Toothbrush enables easy access to all areas of the mouth for effective cleaning
Ultra Soft and Well End-Rounded Bristles (made of Dupont Tynex Nylon)
Clean gently and protect kids' delicate gum and teeth
Ergonomically Designed Handle
For little hands to grip easily and comfortably, ensures good control while brushing.