Play-Doh Treasure Splash | 3 Years+
The most priceless treasure of all is a child's imagination, and this Play-Doh Treasure Splash set lets their creativity truly shine. With the toy treasure chest, Play-Doh tools, and metallic Play-Doh colors, they can create Play-Doh gold colored treasures like jewelry, gems, and coins. There's even a can of rose gold colored compound for a treasure trove of creative possibilities.
With 6 cans of non-toxic Play-Doh compound, this complete arts and crafts set makes a great gift for kids 3 years and up!
Features:-
IMAGINATION IS A TREASURE TO BEHOLD: Let their imaginations shimmer and get their hands busy with this Play-Doh Treasure Splash set that makes a great toy gift for kids 3 years and up
3 SHINY METALLIC PLAY-DOH COLORS: Creativity truly shines with gold, silver, and rose gold colored Play-Doh compound to create Play-Doh gold-colored bracelets, rings, gold coins, and other treasures
MAKE PRETTY THINGS WITH THE TREASURE CHEST: Squeeze strings of Play-Doh compound from the treasure chest toy and use the Play-Doh molds to make bracelets, rings, and other Play-Doh jewelry
6 TOTAL PLAY-DOH CANS PLUS 2 MORE TOOLS: Includes 3 small cans in addition to the metallic-colored compounds and 2 more easy-to-use Play-Doh tools including a key and pear roller
Recommended Age: From 3 Years and above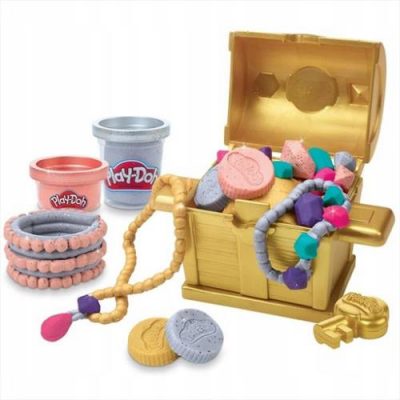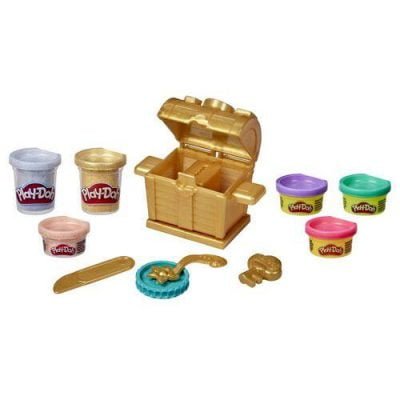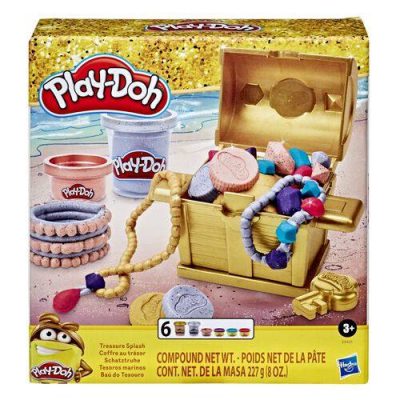 ---
#playdoh