Pigeon GoMini Double Electric Breast Pump
Free Items Includes:-
Pigeon Liquid Cleanser Refill Pack
Pigeon Honeycomb Breast Pad
A design with a simple philosophy of 'There are no Stopping Mums', Pigeon GoMini Double Electric Breast Pump is designed to help breastfeeding mums, especially working mums to achieve a successful breastfeeding journey seamlessly.
Winner of 3 prestigious awards – RedDot Design Award, Good Design Award, and Singapore Good Design Award, GoMini™ is recognized for its sleek design that makes it portable and easily functional with just one hand. It is the LIGHTEST pump we have! To add versatility, GoMini™ is made to be supported by a power bank or AC adapter so breastfeeding moms especially if you're working, can use it on the go!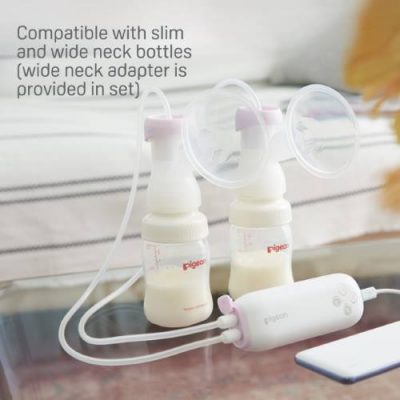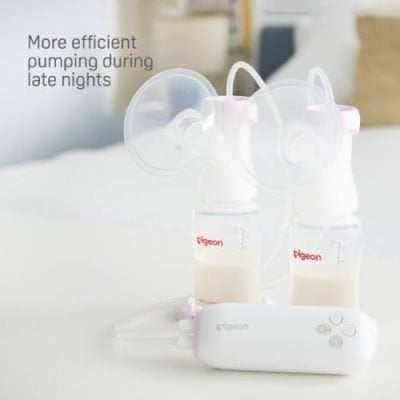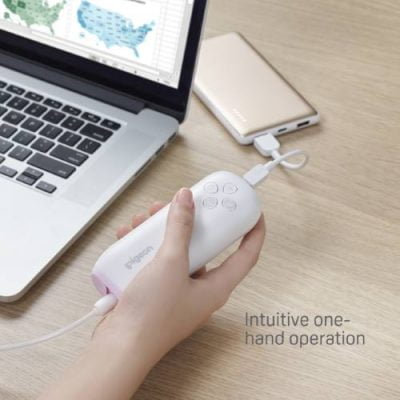 Only double pump is available. Comes in a regular flange 23mm.
Portability
As light as 8 strawberries (145g), it's easy to carry it around and the sleek design fits into any compartment.
Usability
Ergonomically shaped to fit in one hand, the buttons are intuitively functional. Anti-slip features.
Its control buttons are strategically positioned and ergonomically designed for easy, intuitive one-hand operation. Pigeon GoMini Double Electric Breast Pump's body not only prevents backflow. The orientation of the tube holder makes it more accessible when in use.
Versatility
Easy Switch between stimulation and expression mode. Pigeon GoMini Double Electric Breast Pump can be powered by an AC adaptor or battery bank
Customizable expression modes and 5 different suction strengths to choose from.
Other features: Anti-slip surface to enhance gripping. Lanyard loop for security during use
A large flange 27mm is sold separately as a spare part which can be purchased here
Pigeon GoMini Double Electric Breast Pump package comes with:
Pump Body, Funnel (2pcs), Bottle Stand/Cover (2pcs), Tube Connector (2pcs), Wide-neck Adapter (2pcs), Lid (2pcs), Cap (2pcs), Hood (2pcs), Sealing Disc (2pcs), Bottle (2pcs), Tube (2pcs), Inner Cup (2pcs), Milk Valves (2 pcs), Nipple (2pcs), Motor Pump Unit, Power Adapter, USB Cable.
Warranty: 15 Months
| | |
| --- | --- |
| Part | Sterilization Method |
| Pump Body, Funnel, Bottle Stand/Cover, Tube Connector, wide-neck adapter, lid, cap, hood, sealing disc | Boiling, Steam, Microwave, Chemical |
| Bottle | Boiling, Steam, Microwave, Chemical |
| Tube, Inner cup, milk valve, nipple | Tube, Inner cup, milk valve, nipple |
| Motor Pump Unit, Power Adapter, USB Cable | DO NOT WASH OR STERILIZE |
Part
Material
Heat Resistance
Pump Body, Funnel, Bottle Stand/Cover, Tube Connector, wide-neck adapter, lid, cap, hood, sealing disc
Polypropylene
120°C
Bottle
Polypropylene
110°C
Tube, Inner cup, milk valve, nipple
Silicone Rubber
120°C
Motor Pump Unit, Power Adapter, USB Cable
---
#breastpump