Nuk Soother Chain | Disney | Mickey | Premium
a. Nuk Soother Chain
Always wasting time looking for your baby's soother ? Never lose the soother again with this Nuk Soother Chain.
The Nuk Soother Disney Chain prevents the Nuk soother from being dropped, becoming soiled or being lost. It has a practical clip system for attaching the chain quickly and safely to your baby's clothes. In addition, the hook system makes it easier to attach the soother.
With nickel-free metal clip
Made from robust, high-quality synthetics
With popular Disney motifs
Suitable for most soother in the market
NUK Soother Chain: a companion to rely on
Stay happy little one. A NUK Soother Chain helps prevent tears because the treasured soother stays where it belongs. With a simple, single-handed "click", it attaches to your child's clothes. It goes without saying that it matches the design of the NUK Soother perfectly and has neither sharp corners nor rough edges.
Why use a soother chain?
Soother chains are very practical as they prevent the soother from falling onto the ground or getting lost. The soother chain is attached to the soother with the hook. NUK Soother Chains are made of high-quality synthetic materials – reliable, shatterproof and available in a variety of motifs. And with their pretty designs they are a lovely little accessory.
What should parents keep in mind when buying soother chains?
Parents often ask if the safety of their children is ensured with a soother chain. NUK's answer is simple: yes – as NUK Soother Chains comply with current European safety standards, parents can use them without hesitation. Just one comment: the chains should not be used in beds or cradles or in the playpen.
b. Premium Soother Chain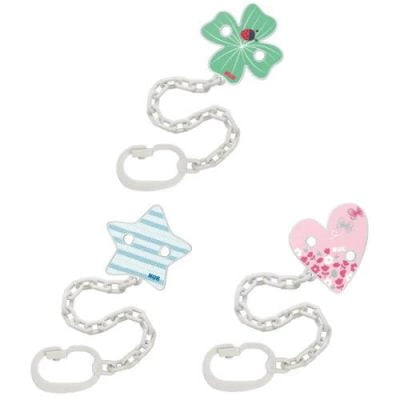 NUK Premium Soother Chain
Practical and reliable clip opens and closes easily
Hook makes attaching chain to soother simple
For soothers with ring
Made out of the high-quality and resilient plastics, Tritan and PE
Modern shapes and motifs that are right for children