Lascal Buggyboard Maxi | 2-5 Years
The Lascal BuggyBoard Maxi remains in a fixed position in relation to the stroller, ensuring comfort and safety for the child, and allowing you to pass over bumps and curbs without affecting the balance of the stroller.
The Lascal BuggyBoard Maxi can be attached to a stroller in minutes, with no tools required thanks to the Easy-Fit system. This system also allows you to attach, level, adjust or remove your BuggyBoard in just seconds.
The Lift-n-Store system lifts your board up and out of the way when not in use.
BuggyBoard-Maxi provides security for your child in crowds and high-traffic areas. When your child is too tired to walk, or when you are in a hurry, the BuggyBoard-Maxi makes it easy for both of you.
The Lascal BuggyBoard-Maxi is designed to easily be attached to the upright tubing of a stroller or to the frame of a pram with a width between uprights of 31 – 54 cm (12″ – 21″).
The connectors are made to fit square, oval or round tubing with a maximum circumference of 22.5 cm (9″). No wheel axle is required.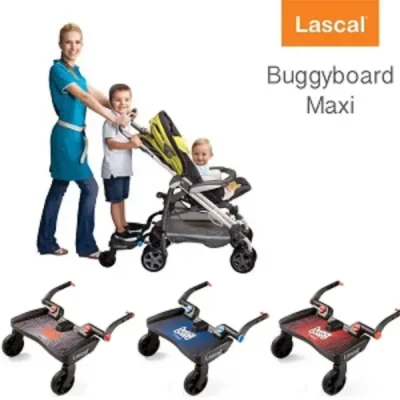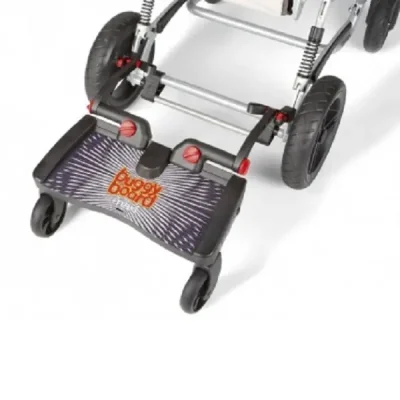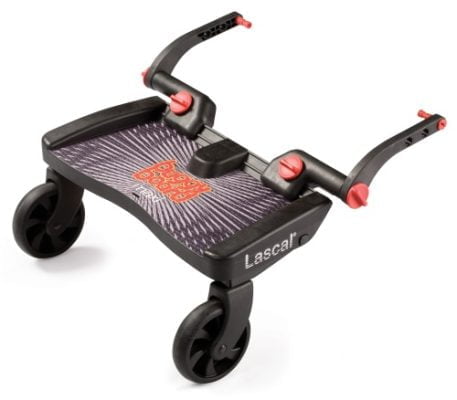 Requirement:-
► Square tubing
The maximum circumference of 16.8 cm. Max. 4.2 x 4.2 cm
► Round tubing
Min. 1 cm
Max. 6 cm
Max. circumference 18.8 cm
► Oval tubing
Max. circumference 22.5 cm (8.8″)
Tested & Approved:
The BuggyBoard-Maxi is tested and approved by:
SGS-CSTC Standards Technical Services Co. Ltd, Guangzhou, China according to EN 1888:2003 clauses 6, 7, 16, 17 and 18
Suitable for children from 2 – 5 years or a maximum of 20 kg (44 lb).
View the list of buggies or strollers that can be used with this product HERE.