K-Mom Baby Wet Wipes
Natural Pureness Baby Wet Wipes
Only mild ingredients & natural ingredients for baby
Containing 99.7% ultra-purified water, and underwent 6 stages of purification process, pure plant-based ingredients that are good for sensitive baby skin and registered as type 1 medical device device by U.S. FDA (Global Certified).

---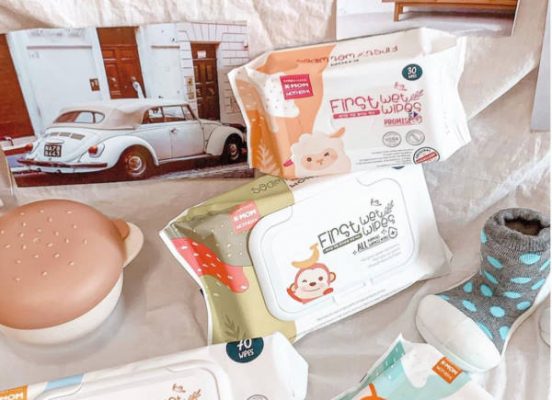 First Wet Wipes Series
Certified by German-based DERMATEST
This series received the "excellent" grade (the highest grade), which means "no skin irritation was observed" in the human experiment by German skin science lab.
USDA Certified seed oil added
The pure oil extracted from the seeds to soothing and moisturizing for baby skin.
---
99.8% purified water & all natural plant extracts! K-Mom's Baby Wipes contains 4 natural ingredients & FREE from 9 harmful chemicals! Uses superior material, EMBO, for baby's delicate skin, so wipes are specially made by Lenzing, a leading fibre innovation company in Austria! Each & every piece of wipe goes through 6 layers of filtration so it is ultra purified!
K-Mom Baby Wet Wipes is 60g thick & made with superior EMBO material for extra softness & non-slip effect* Organic peppermint extract has anti-bacterial effect & keeps delicate skin of baby supple
Organic peppermint extract is suitable for babies with sensitive skin
K-Mom Baby Wet Wipes is Eco-Cert by EU certifies organic peppermint ingredient safe for use
FREE of 9 harmful chemicals possibly used in other wipes (fluorescent brightener, coloring, formaldehyde, IPBC, PHMG, paraben, MIT&CMI, benzalkonium chloride, surfactant)
K-Mom Baby Wet Wipes manufacture using 4 natural ingredients (organic peppermint, chamomile, calendula, aloe vera)
Use of ingredients in manufacturing certified by KTR Korea as safe & contains no harmful chemicals that may aggravate skin. KTR, is a testing & certification institute in South Korea. International recognized testing body (ISO/IEC 17025)
Safe & hygienic manufacturing process as certified by ISC (International Standards Certification Pty, Ltd) ISC, full scope JAS-ANZ independent 3rd party accredited certification body in recognition of compliance to various national & international standards.
HACCP, ISO, CLEAN certified (Korea)
K-Mom Baby Wet Wipes has 6 levels of water purification process to ensure safety of product (Auto A/C filter system, auto water softner, micro filter system, reverse osmosis system, ultraviolet sterilizer, final micro filter system)
Quality fibre material by Lenzing for extra softness
Size of wipe: 160 x 200mm material: Fibre
Expiry date: 1 year from manufacturing date (date on side of packet)
Ingredients: Purified water, organic peppermint, chamomile, calendula, aloe vera, cosmetic-grade antibacterial agent, food-grade antibacterial agent, citric acid
Special Feature: Peak-a-boo window at side for quick and easy look at condition/quantity
Made in Korea