Infantino Baby Carrier
a. Infantino Baby Carrier – Infantino Flip 4-in-1 Convertible Baby Carrier
Along with its multiple carrying options and grow-with-baby flexibility, this convertible wonder offers an ergonomic, facing-in seat for optimal baby hip positioning; a super supportive waist belt; and adjustable, padded straps for long-term wearability.
4 ways to carry: facing-in (narrow seat), facing-in (wide seat), facing-out, and backpack
Carry children from 8-32 lbs / 3.6-14.5 kgs
Natural, ergonomic seat when facing in
Narrow and wide seat positions
Adjustable head support
Extra-padded shoulder straps
A supportive waist belt transfers weight to the wearer's hips
Includes Wonder Cover bib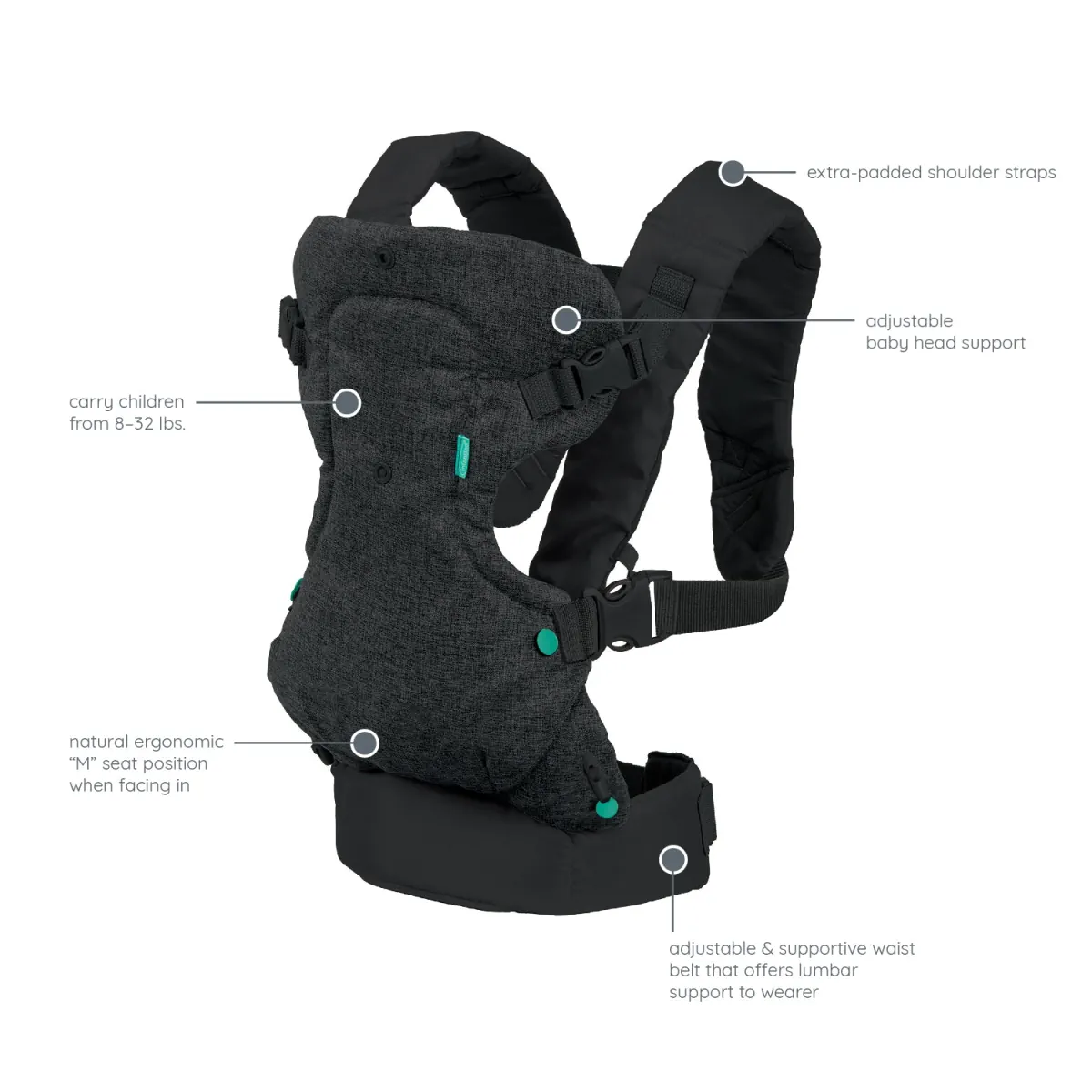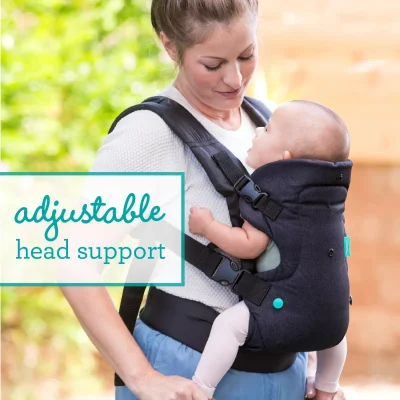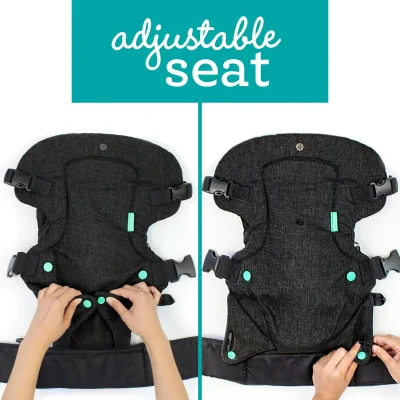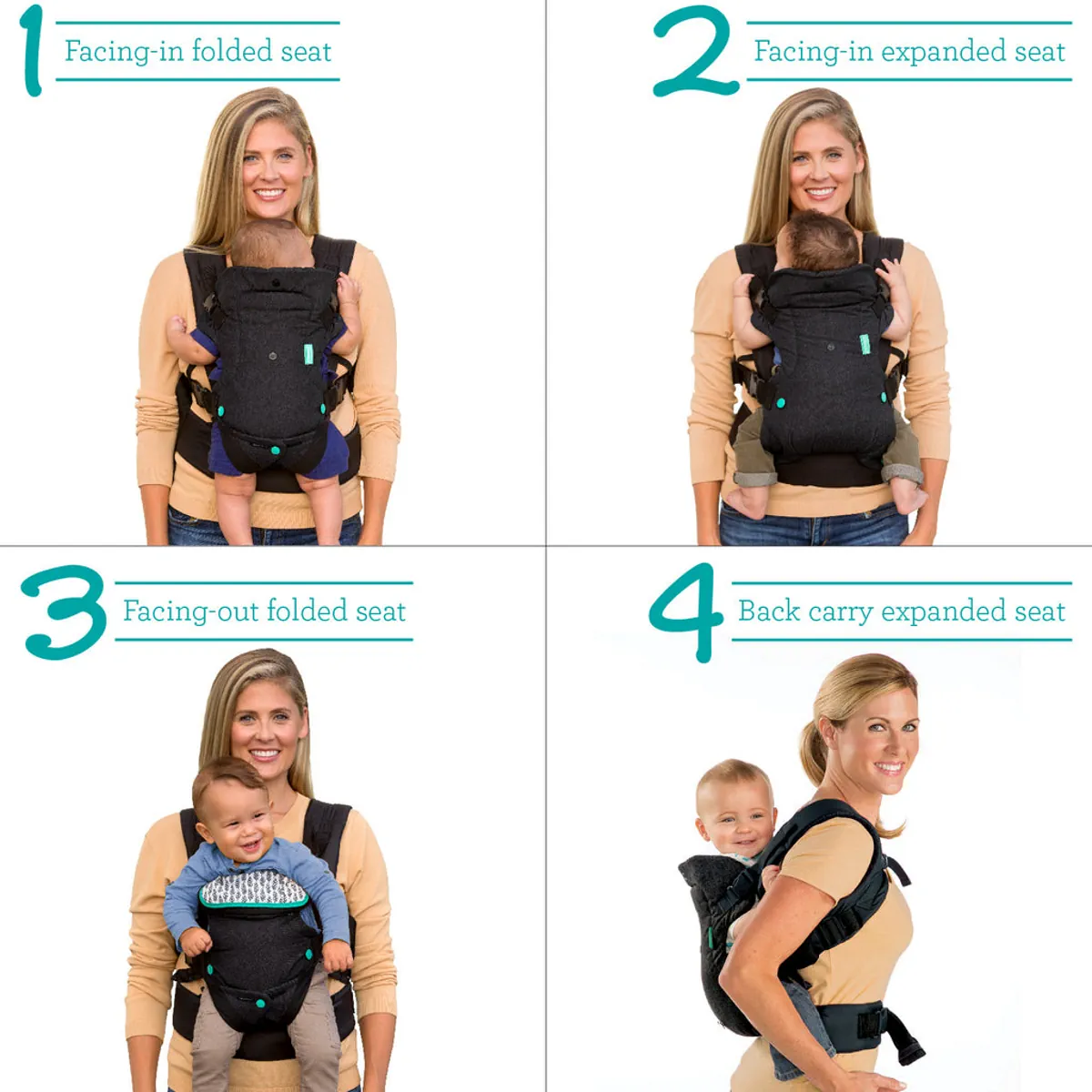 b. Infantino Baby Carrier – Infantino Flip 4-in-1 Light & Airy Convertible Carrier
Infantino's Flip 4-in-1 Light & Airy Convertible Carrier will elevate your farmers market adventures, park strolls, or day-to-day at-home tasks that require an extra set of hands & extra airflow thanks to its breathemesh® design. This easy-to-clean, baby-wearing-MVP offers comfy & adaptable baby carrying for mom, dad, and little ones thanks to the ergonomic seat that grows with you from infancy to toddler years, adjustable padded straps, and customizable baby head support.
Features:
Complete with breathemesh® design
4 Ways to Carry:
Facing-in Folded Seat
Facing-in Expanded Seat
Facing-out
Back Carry
Points of Adjustability:
An adjustable waist belt offers lumbar support (Min 24"- Max 49")
Adjustable extra-padded breathable shoulder straps (Min 21" – Max 39")
Adjustable head support
Natural ergonomic "M" seat position when facing in
Carry children from 8-32LBS (3.6-14.5 kgs)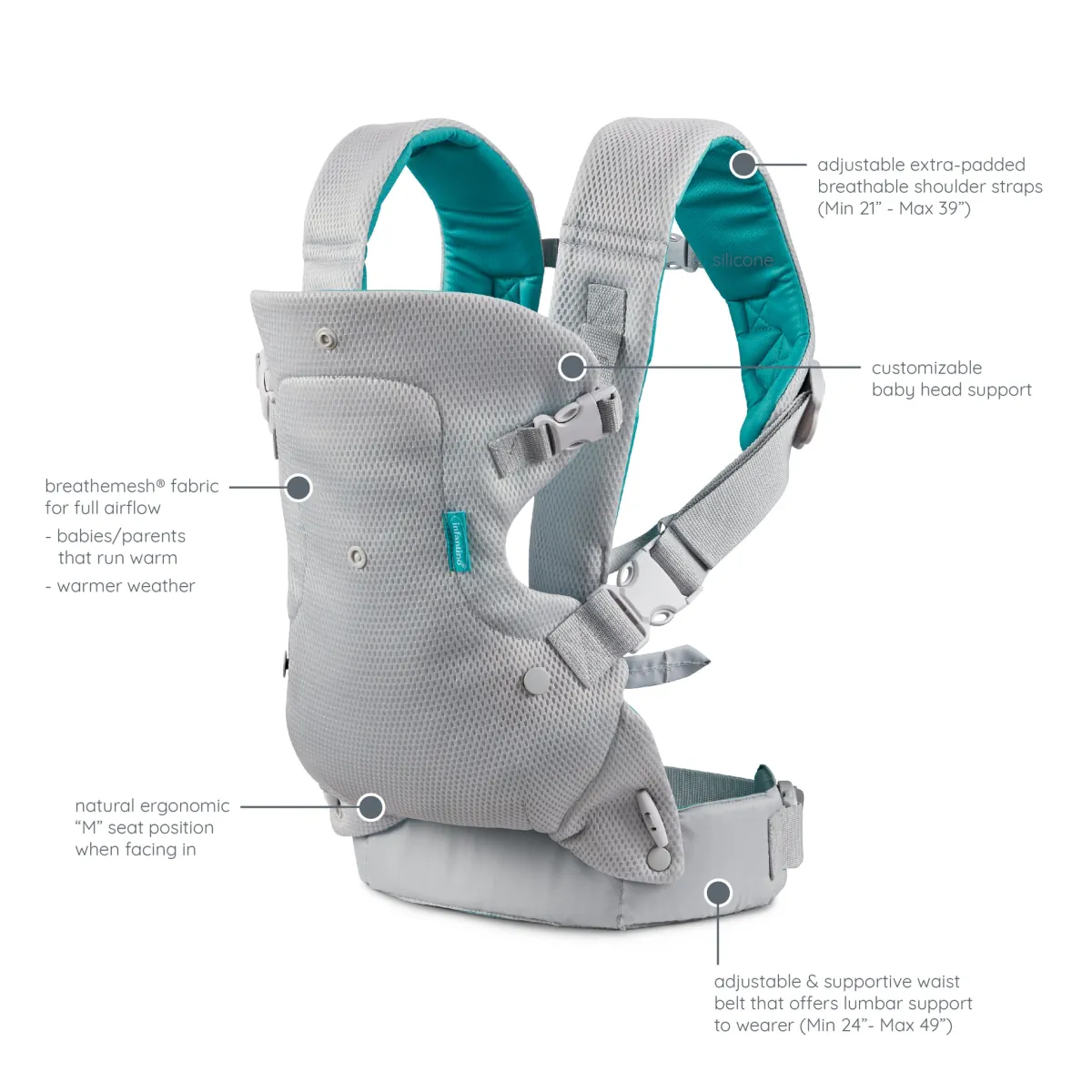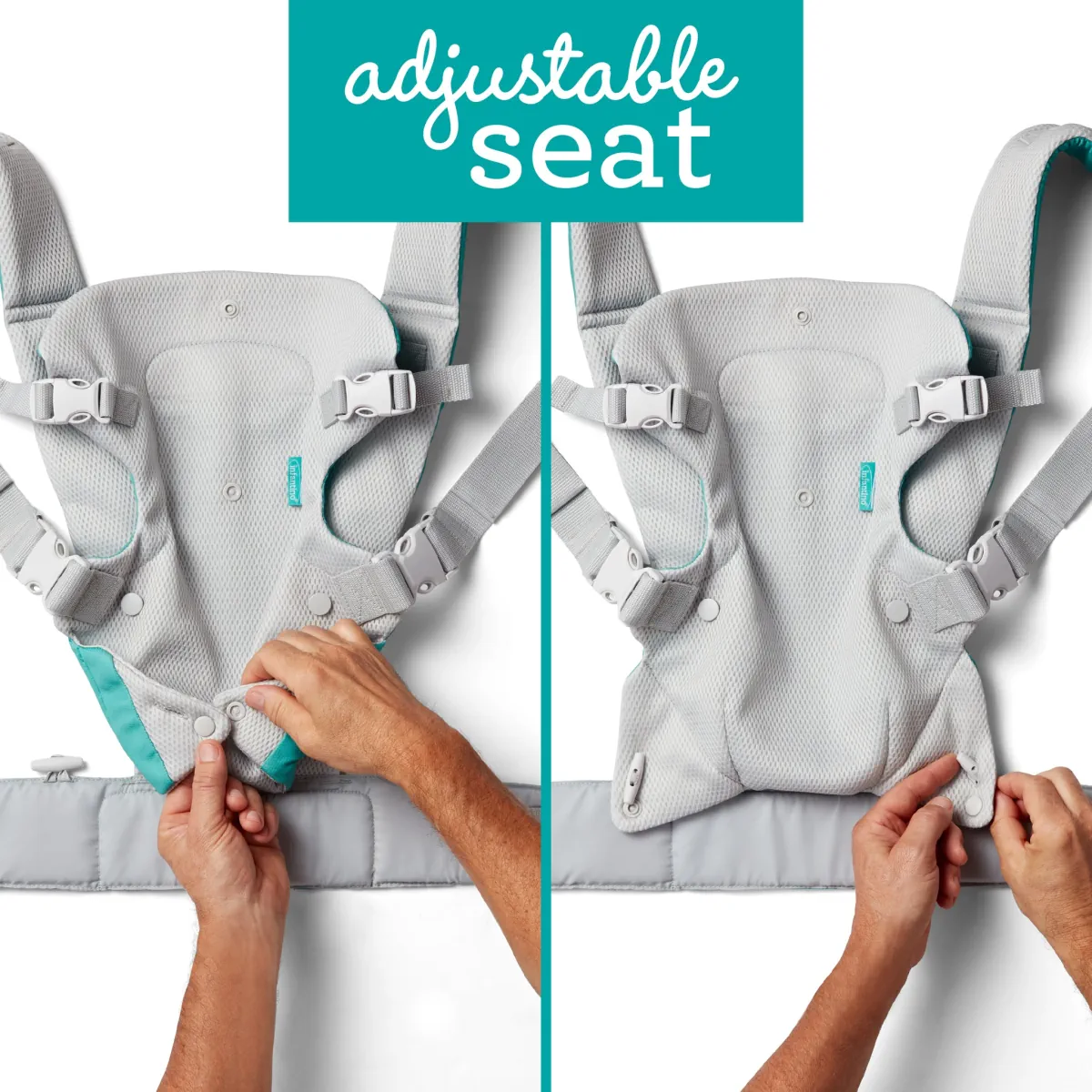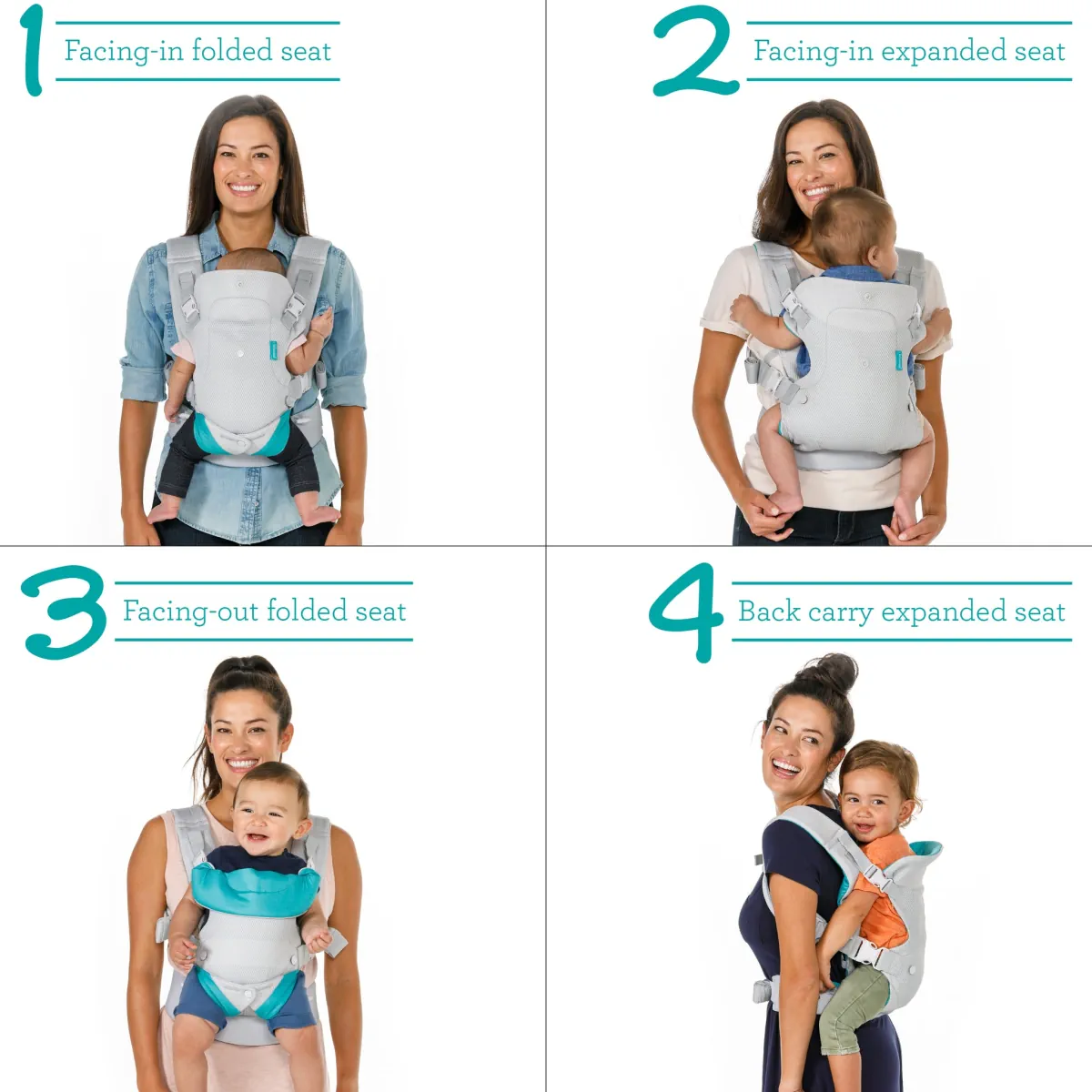 c. Infantino Baby Carrier – Infantino Baby Carrier – Carry-On Multi-Pocket Carrier
The Carry On Multi-Pocket Carrier features six intuitive pockets plus an adjustable seat that cinches small for newborns and expands for older babies and toddlers – providing ergonomic support at all stages. Padded shoulder straps and a supportive waist belt evenly distribute weight for comfortable wearing.
Handy pockets include an easy-access pacifier pocket on the shoulder strap, waist panel pockets for phones and keys, and front pockets for soft goods like diapers, wipes, or a spare onesie. The clever stretch-forward design means filled pockets always stretch outward and not in toward the child. A breathable mesh panel keeps air circulation flowing between parent and child, keeping you and baby cool and comfortable in all types of weather.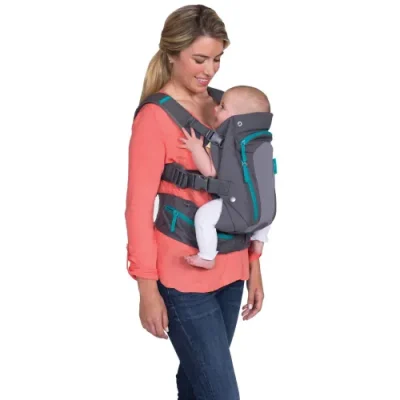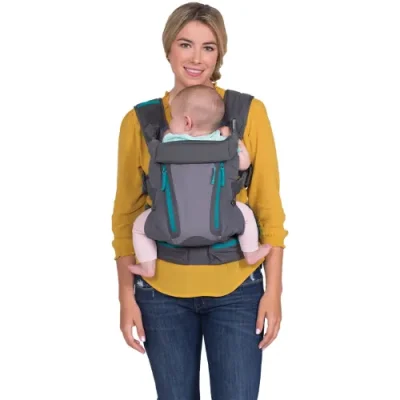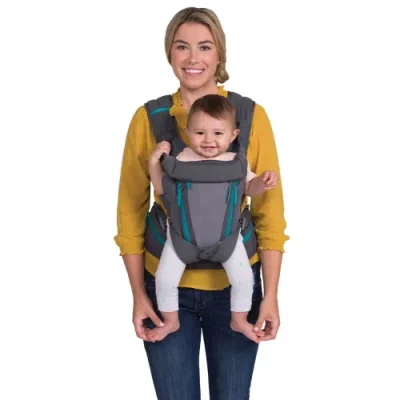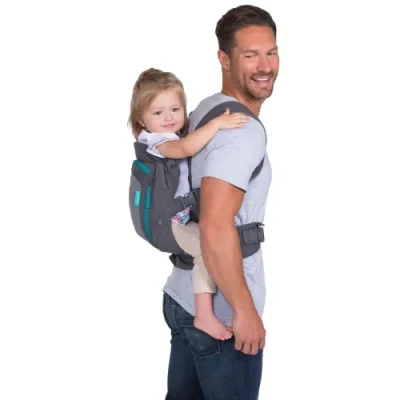 4 ways to carry: facing-in (reduced width seat), facing-in (expanded seat), facing out, and backpack
Carry children from 8-40lbs/3.6-18.14 kgs
The cinch seat narrows for infants and expands for older babies, providing ergonomic support at all stages
6 intuitive pockets
A breathable mesh panel keeps air circulation flowing for cool-wearing
Padded shoulder straps and supportive waist belt evenly and comfortably distribute carrier weight