How To Choose Car Seat In Malaysia?
Many new parents will have these challenges. We have seen parents with few children and still having problems selecting the right child car seat for their child over 15 years in the business. 
First of all, parents need to know that there are many different standards of the child car seat in the market. Those which are commonly available in Malaysia are namely:- 
United Nation Regulation – UNR (European Standards), 
Federal Motor and Vehicle safety Standards – FMVSS (US Standards), 
Australian/New Zealand Standard – AS/NZS 1754 (Australian / New Zealand).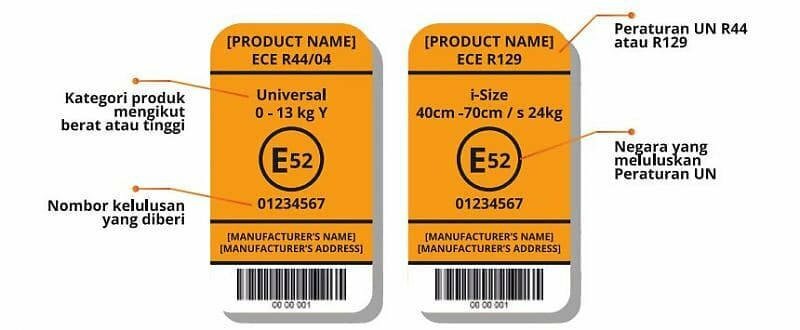 UNR 44/04 & UNR 129/03 (Also called Orange Stickers)


FMVSS (US Standard) Car Seat Sticker
Australian / New Zealand Standard Sticker
Many countries have their own safety standards for child car seats. Countries like China, Japan, Korea, Brazil, just to name a few. Just imagine you need to understand and learn all of these if all are allowed in Malaysia. All of them are different standard and going through a different type of testing requirements. It is very hard for us to said which is the best. But of course, if you ask Test Engineers in the US, they will say FMVSS is the best. So will the Test Engineer from Germany or Sweden, they will say that UNR is the best.
Malaysia is one of the countries that has signed the UNECE WP.29. Most of our products in Malaysia are in accordance to the UNR standards, including vehicles. For this reason, the Malaysian government is encouraging the usage of UNR child car seats. The vehicle and child car seat is tested under the same standards.
Parents also need to know the type of car seats and grouping available. As in the Malaysian government guideline, parents are encouraged to purchase only UNR standard car seats. 
For the UNR child car seat, it is divided into UNR 44/04 and UNR129/03 currently. UNR 44/04 has been available for some time and all child car seats approved in this category are base on the weight on the child. UNR129/03 are new and improved standards which are base on the height of the child and supported by the age and weight. 
For easy identification of the UNR child car seat, you just need to look for a so called "Orange Stickers" on the child car seat. It is like an identification for the UNR car seat. The Orange stickers will contain a few important information of the child car seats, country of approval, approval code, and recommended usage. Apart from this orange stickers, the Malaysian government has implemented a QR code for parents to identify the approval of the child seat and also information about the child car seat. All parents need to do is just scan the QR code on the child car seat and information about the child car seat will be available. 
There aren't many options of UNR129/03 in the market as this is new and the car seat are generally slightly higher in price due to the test requirements are more stringent. UNR44/04 will be widely available in the market. Prices for ECE R44/04 are more acceptable for now. Many international brands are still using ECE R44/04 for their child car seat currently but slowly move to UNR 129/03. 

As for the group of the child car seat (Grouping of car seat only applies to UNR44/04 child car seat), parents will have to understand the group is base on weight, these the grouping and weight.
Group 0 – Newborn to 10kg
Group 0+ – Newborn to 13kg
Group 1 – 9kg -18kg
Group 2 – 15kg to 25kg
Group 3 – 22kg – 36kg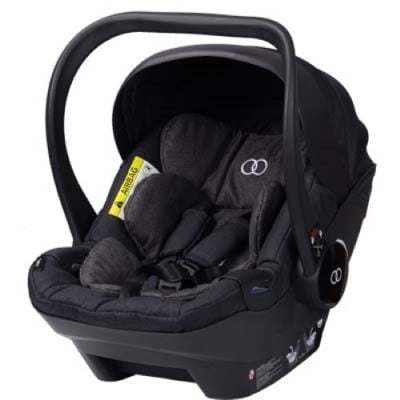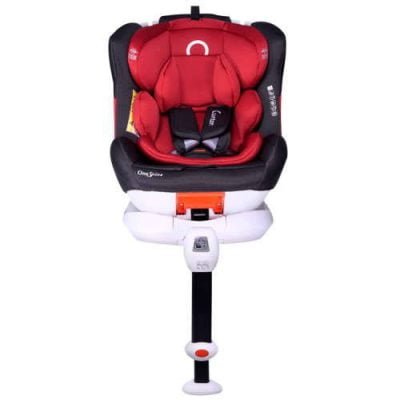 There are 2 types of installation methods when buying a child car seat:-
Car Seat Belt
Isofix (Isofix + Load Leg or Isofix + Top Tether)
Note: For the Isofix installation type of child car seat, parents are advised to ensure that there must be Isofix + Load Leg or Isofix + Top Tether on the child car seat. If the child car seat only has the Isofix, it normally needs to install with a car seat belt too.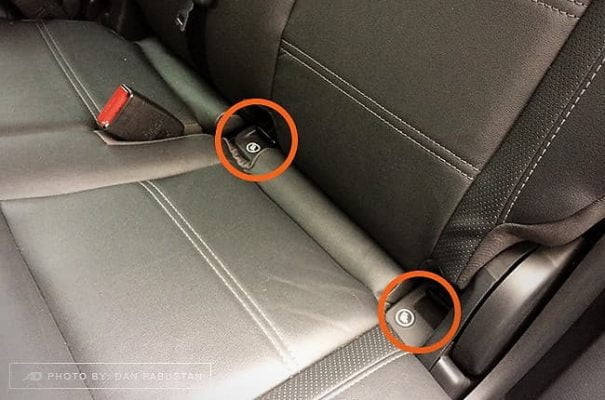 This is the place where you should look for Isofix Anchorage. It is normally at the 2nd row of the vehicles.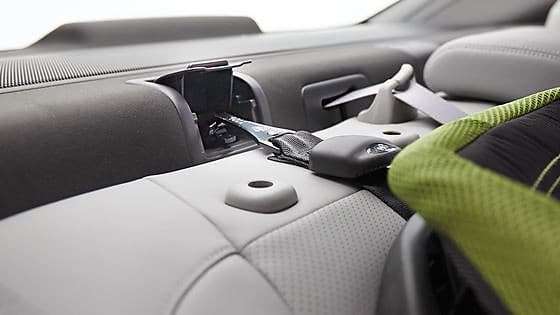 This is the place for Top Tether Anchorage for a Sedan Vehicle.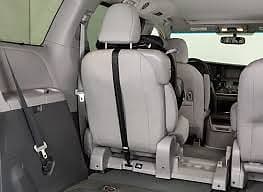 For SUV or MPV, the Top Tether Anchorage is behind the 2nd row vehicle seat and normally at the bottom of the vehicle seat.

Before deciding which type of installation, parents are also advised to inspect their vehicle whether what type of safety system in the car. If your car does not have an Isofix anchorage, you can only buy a car seat that is installed using a car seat belt.
The final first stage of consideration is budget. This is a crucial part too for selecting a child's car seat. From our findings (our findings in our retails shop), parents spent an average of RM500- RM700 on a child car seat. Prices of a child car seat in Malaysia vary from RM99 to an average of RM1800. Some are much higher prices than this but are not so common and fewer parents are searching for it. For a start, choose the one that suits your child, suits your car, and also suits your budget. Correct usage of the child car seat is far more important than brands. Driving expensive cars without a seat belt in a crash does not mean that person will be safe from the crash.
These are the basis of understanding the child's car seat. There are lots of matters to look into which we will discuss in later.