Do I need a high chair for my baby?
A high chair is an item that many parents are encouraged to purchase when the baby is old enough for solid food. The reason is that, with a high chair, the child will be able to sit in their territory when having their meal. And will indirectly train them to be sitting and not running around during dining time.
At what age can a baby start using a high chair?
4-6 months. Generally, most high chairs are designed for a baby from 6 months old as many parents will not look into this product when the baby cannot sit up. At six months, this is when the baby sits up, and they can support their head, and they start to have solid food.
Some high chairs are claimed to be used from newborn as it was designed with reclining positions for a newborn. However, most parents will use high chairs for feeding and not other purposes. Therefore, most parents will not purchase this item for their newborns.
What is the alternative to high chairs?
Booster chair, booster chair is a chair that you can fasten to an adult chair for the baby to be at the table's level. It makes it easier for the mother to feed the baby.
The Booster Chair is portable and smaller in size. For parents who have storage issues with a bulky item like a high chair, a booster chair will be an alternative. However, some booster chairs are not very sturdy when fastened on some adult chairs that do not have a flat surface.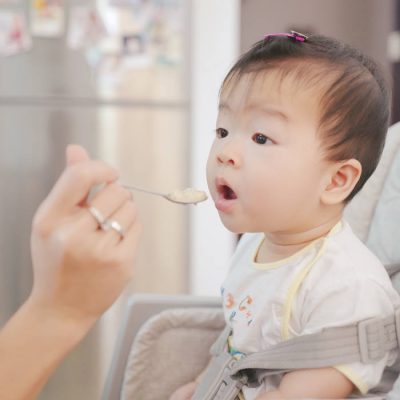 How long can a child sit on high chairs?
2 to 3 years. There isn't a general age for how long a child should be sitting on high chairs. Generally, most high chairs in the market are designed for a weight of up to 15kg, which is approximately three years old. If your child can sit up on their own and reach the table height when dining, then perhaps that is when they do not need to sit on a high chair anymore.
What is the feature I should look for when buying high chairs?
Stability
5 points harness
Foldability
Castor / Wheels
Reclining Seat
Adjustable Seat Height
Removable Tray
Padding / Cushion
Anti-slip guard
Stability: It is one of the most important features when looking for a high chair. It usually is subject to a heavy base or broader base for this.
5-point harness: This will ensure that the child is fastened on the high chair.
Foldability: Generally, high chairs are bulky in size. When not in use, this feature will ensure that it does not take up so much space in the kitchen or the dining area.
Castor / Wheels: With castors? Will it be safe and sturdy? Most high chairs are designed with a caster for easy to move around, and a LOCKABLE castor will ensure that the seats are always safe and sturdy when the baby is sitting on them.
Reclining Seat: This is the least important feature for a high chair. Ikea high chairs won't recline, and yet people buy them a lot. You need to ensure whether this feature is vital for your usage or not.
Adjustable seat height: This will be easy for parents who move the high chair around the dining, kitchen, and living area. When sitting on the table at the dining or kitchen area, you will need the baby to be seated at the table height level. But when you are sitting in the living hall with the child on the sofa, you might want the high chair to be able to lower down so that you can attend to the baby.
Removable Tray: Apart from it being removable, it has to be removed with one hand. This removable tray will be more effortless for you to take out the baby or put them in when your hands are busy.
Padding / Cushion: Easy clean cushion or padding is essential. Most of these are made from PVC or Polyester fabric so that it is easy to clean. Apart from it being easy to clean, some parents hope that the padding is comfortable for their child.
Anti-Slip Guard: This feature is to prevent the baby from slipping down off the high chair. It has various designs. Parents might look into some high chairs that come with this feature.
How can I train my baby to sit on a high chair?
The keyword is consistency and patient. Consistent in putting the baby on a high chair every time you feed him/her. Ensure everyone in the family does the same. Never allowed anyone to carry the baby when they cried for help. Once the baby knows the trucks, they will cry every time to get someone to carry them out from the high chair.
Be patient with the baby during feeding time. Baby will throw tantrums and do not want to eat to get out of the chair. Try not to let them get out quickly without finishing their food.
Getting to understand your child is vital to handle them. Knowing your children's behaviors will make you easy to handle regardless of the situation. Every child is unique, and you cannot handle all the children the same way others do.
Can a baby sleep in high chairs?
It is not recommended to let your babies sleep in high chairs. It is better to get more suitable and safe products for babies to sleep on, such as a baby cot, crib, travel cot, playpen, etc.
How much should I spend on high chairs?
The most popular Ikea basic high chairs start from as low as RM59. Of course, you need to understand that it is basic high chairs. Most of the features mentioned above are not there. However, You are advised to check the feature and the usage before deciding how much you want to spend on a baby high chair suitable for your child.