Happy Baby Organic Yogis Yogurt Snack
a. Happy Baby Organic Yogis Yogurt Snack Banana Mango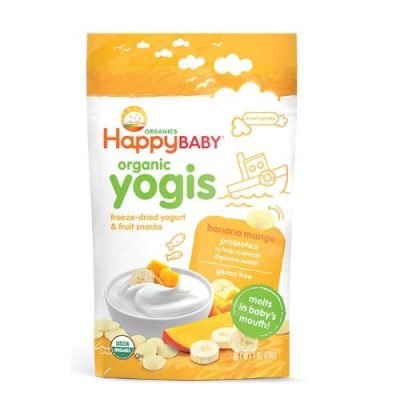 BANANA MANGO INGREDIENTS
Vitamin D fortified culture pasteurized organic nonfat milk, organic banana, organic evaporated cane juice, organic mango, organic tapioca, pectin, organic locust bean gum, inulin, natural flavor, live and active cultures streptococcus thermophilus, bulgaricus, lactobacillus acidophilus, B. lactis, lactobacillus paracasei, lactobacillus rhamnosus
---
b. Happy Baby Organic Yogis Yogurt Snack Mixed Berries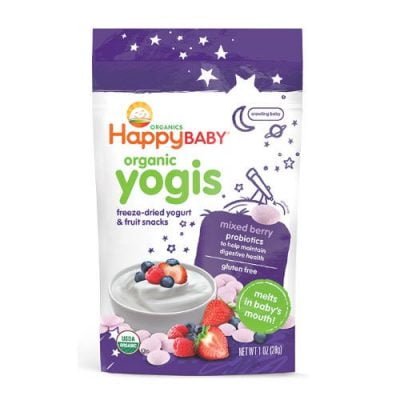 MIXED BERRY INGREDIENTS
cultured organic vitamin D fortified 2% milk, naturally milled organic sugar, organic blueberry, organic blackberry, organic strawberry, organic tapioca, organic pectin, natural flavor, inulin, live and active cultures streptococcus thermophilus, bulgaricus, lactobacillus acidophilus, B. lactis, lactobacillus paracasei, lactobacillus rhamnosus
---
c. Happy Baby Organic Yogis Yogurt Snack Strawberry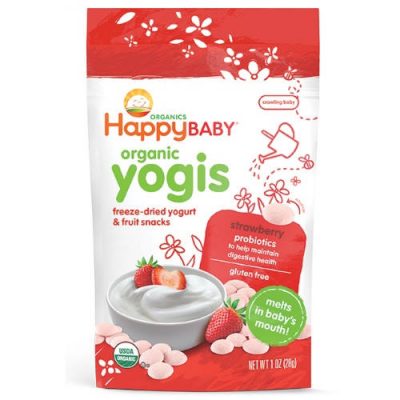 STRAWBERRY INGREDIENTS
Vitamin D fortified cultured pasteurized organic nonfat milk, organic evaporated cane juice, organic strawberries, organic tapioca, pectin, organic locust bean gum, inulin, natural falvor, live and active cultures: streptococcus, thermophilus, bulgaricus, lactobacillus acidophilus, B. lactis, lactobacillus paracasei, lactobacillus rhamnosus
---
For babies and toddlers
GLUTEN FREE
No Preservatives
Pre and Probiotics for digestive health
Melts in baby's mouth
Always Organic: never any artificial flavorings.
Recommended by: Dr. Bob Sears, renowned pediatrician and author of The Baby Book
Live active cultures: for baby's digestive health
We support: sustainable agriculture. No pesticides, chemical fertilizers, or genetically modified organisns (GMOs).
ALLERGEN INFO
NO SOY
NO GLUTEN
NO WHEAT
When is Baby Ready For happymelts ?
Can pull him or herself up to stand.
Begins to use fingers to self feed.
Crawls with belly off the floor.
NOTE: This product should only be fed to seated, supervised children who are accustomed to chewing solid food.