Boboduck Double Bottle Warmer | 5-in-1 Functions
Features :
Boboduck Double Bottle Warmer is a multi-funtional 5 in 1 milk warmer – Keep warm, Sterilizer, Boil egg, Heating, Thawing.
Double bottle design : Compatible with 95% of the milk bottles.
Evenly heat milk bottle, avoid local overheating or overcooling.
Feeding baby at any time, 24-hour constant temperature.
100 ℃ high temperature steam cycle disinfection.
Noiseless while working and soft night light design (40 DB ).
When you need to steam or heat food, turn the basket upside down.
Not only can warm milk bottle, but you can also warm milk storage bags.
Power is automatically cut off when the water in the bottle warmer is dry.
Suitable for all brands milk bottle
UK Plug
Specification :
Product : Milk Bottles Warmer & Sterilizer ( Kills 99.9% Of Harmful Germs )
Material : PP, PTE, ABS
Rated power:220w
Rated voltage:220v
Dimensions:205 x 134 x 246 mm / 8 x 5.2 x 9.6 inch
Frequently Asked Question:
Pre – set temperature :
35 Degree C Food thawing
37 Degree C Keep Warm – The optimum temperature for baby milk
70 Degree C Heating – Warm up baby food
100 Degree C Sterilizer and boil egg
Is this milk bottles heating sterilizer easy to operate?
Yes, only one button, rotate the button to adjust the temperature.
How to use Boboduck Double Bottle Warmer ?
Fill the bottle warmer with water below the maximum mark
Put the bottle into the bottle warmer after putting it in the basket, and close the lid
After turning on the power, press the key and adjust the temperature by rotating the button
Take out the bottle to feed the baby or make milk at any time
Warranty : 1 Year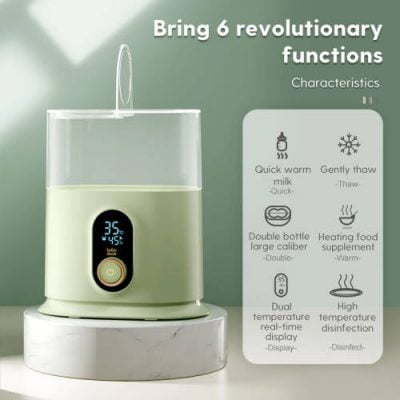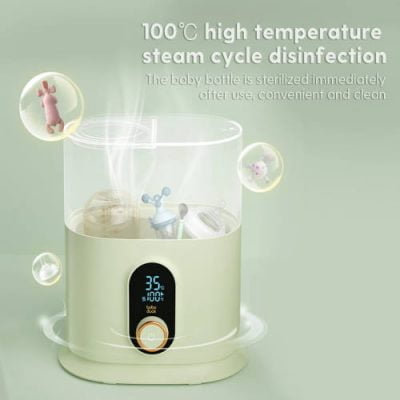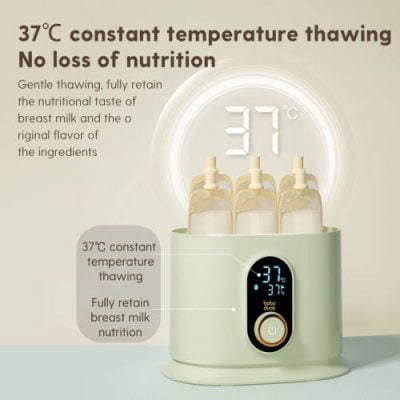 ---
#milkwarmer