Autumnz Vacuum Flask & Food Jar Set | Stainless Steel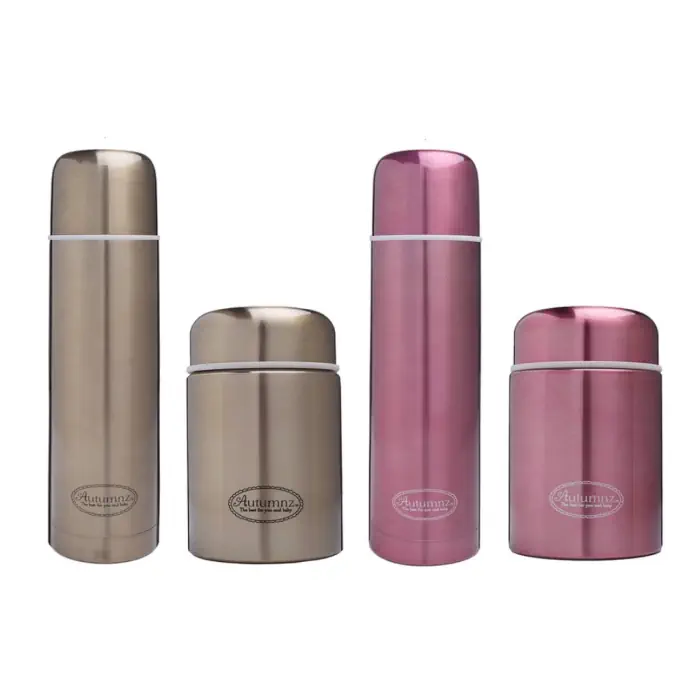 FEATURES:
Double wall stainless steel vacuum insulation that helps to maintain your drink and food's temperature for many hours to come
Air-tight seal
Portable: lightweight, compact, handy, easy to carry, for household, sports, business, traveling, etc.
BPA Free
Vacuum Flask – 500ml, Food Jar – 450ml
Available in : Metallic Burgundy / Metallic Gold
MATERIAL:
Stainless Steel: High-quality stainless steel
Plastic: Non-toxic, American food standard qualified
Silicone: Non-toxic, American food standard qualified
FOR BEST RESULTS:
Preheat or precool the flask/food jar by filling it with boiling or ice water.
Let stand for 3-5 minutes.
Empty the flask/food jar and immediately fill it with your drink/food.
After filing, quickly cover the flask/food jar with the lid to increase thermal efficiency.
CARE & USE OF NEW FLASK/FOOD JAR:
Before use, wash all parts in warm soapy water.
To clean your Autumnz Vacuum Flask & Food Jar Set, wash with warm water and mild detergent. Let stand for 5 minutes.
Pour out and rinse with warm water. Wash with mild detergent with a soft cloth or sponge and rub dry.
If the interior becomes stained, use a mixture of baking soda and warm water.
Let stand open for one hour before rinsing thoroughly.
Do not use bleach or cleansers containing chlorine to clean.
Do not place in dishwasher.
CAUTION:
Don't put your Autumnz Vacuum Flask & Food Jar Set in the microwave.
Don't overfill your Autumnz Vacuum Flask & Food Jar Set with hot liquids or food. It could spill and scald you. Leave about 1 cm of room on top when
filling the flask/food jar.
When filled with hot liquids or foods, keep them out of reach of children.
To prevent spills, make sure your lid is screwed on completely before use.
Do not drink hot beverages directly from the flask. Always pour out to a cup before drinking.
Do not fill the Autumnz Vacuum Flask & Food Jar Set with the following :

i) Dry ice and carbonated drinks or fermenting beverage – the high air pressure from the content may cause the stopper to become difficult to open or may cause the stopper to burst forcefully
ii)  Dairy products or fruit juice – contents may spoil if kept too long and may produce gas that may cause the stopper to burst
Do not keep food or soups containing salt^^ ingredients for more than 8 hours. Clean the food jar completely after each use
^^ salt may cause rust resulting in loss of thermal insulation even though it is made from high-quality stainless steel
Always keep the vacuum flask/food jar in an upright position