Autumnz Safety Gate & Extension | 77-185cm
Autumnz Safety Gate
Autumnz Safety Gate & Extension Features:-
EASY TO INSTALL: This pressure-mounted gate requires no hardware or tools to install and sets up easily in doorways and openings. The pressure mount design avoids damage to the walls.
SIMPLE TO USE: Adults can easily open the gate using one hand, hence getting in and out is nearly effortless. The gate can be opened and swung in both directions. Perfect for stairs, hallways, doorways, and open spaces.
WORRY-FREE SAFETY: You can now keep your child safe and secure as the gate can easily swing to close automatically if open in less than 90°. So no need to worry about forgetting to close it. The gate will stay put if open pass 90°.
CUSTOMIZABLE WIDTH: This safety gate with 78cm height can fit doorways and openings between 77-87cm. For those with wider opening, the gate allows extension up to 185cm by using additional extension  of 7cm/ 14cm/ 28cm/ 42cm (available to be purchased separately). The reinforcement slot comes with each extension gate and needs to be placed at the bottom of the joints of the extension to strengthen the extension.
SAFE & FIRM: For areas with a round surface, you can fix the safety gate to that surface using a U-Type bolt (to be purchased separately).
Autumnz Safety Gate & Extension Size: Height: 78cm; Width (77-87cm)
Autumnz Safety Gate & Extension Additional accessories (if needed and to be purchased separately):
Extension 7cm
Extension 14cm
Extension 28cm
Extension 42cm
U-Type Bolt
 Complies with European Standard EN1930:2011
TIPS:  You will see a slight gap between the gate door latch and the frame, which is NOT a defect. This gap will disappear once you tighten your gate in its opening.
NOTE:
PLEASE READ THE ENTIRE MANUAL GUIDE BEFORE ASSEMBLING AND INSTALLING THE PRODUCT. IF YOU GIVE AWAY THIS PRODUCT, MAKE SURE YOU ENCLOSE THE MANUAL GUIDE TO THE NEW OWNER.
Never leave the child unattended. This product may not prevent all accidents.
Do not use the gate once the child is able to climb over or open the gate himself/herself.
To prevent falls, do not use a safety gate at the top of the stairs.
Do not fit a safety gate across the window or similar openings.
Always make sure the gate is securely installed to prevent any injury.
Check the gate regularly to ensure all fittings are securely tightened and that the locking/latching mechanism is working properly.
Periodically check the safety gate for signs of damage or missing components. Do not use the gate if any components are damaged or missing.
Install this gate away from open flames or places with heat sources.
Always make sure reinforcement slots are placed at the bottom of the joints to strengthen the extension areas.
This safety gate is for domestic use only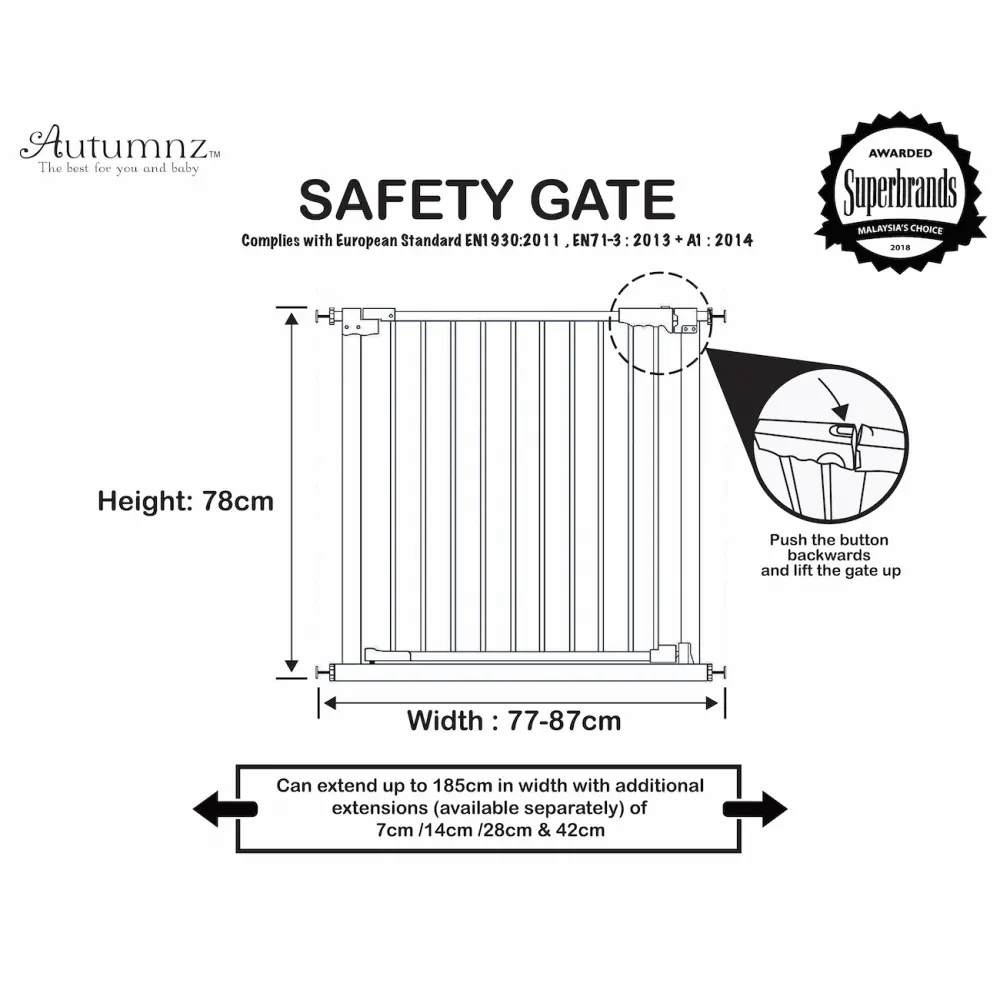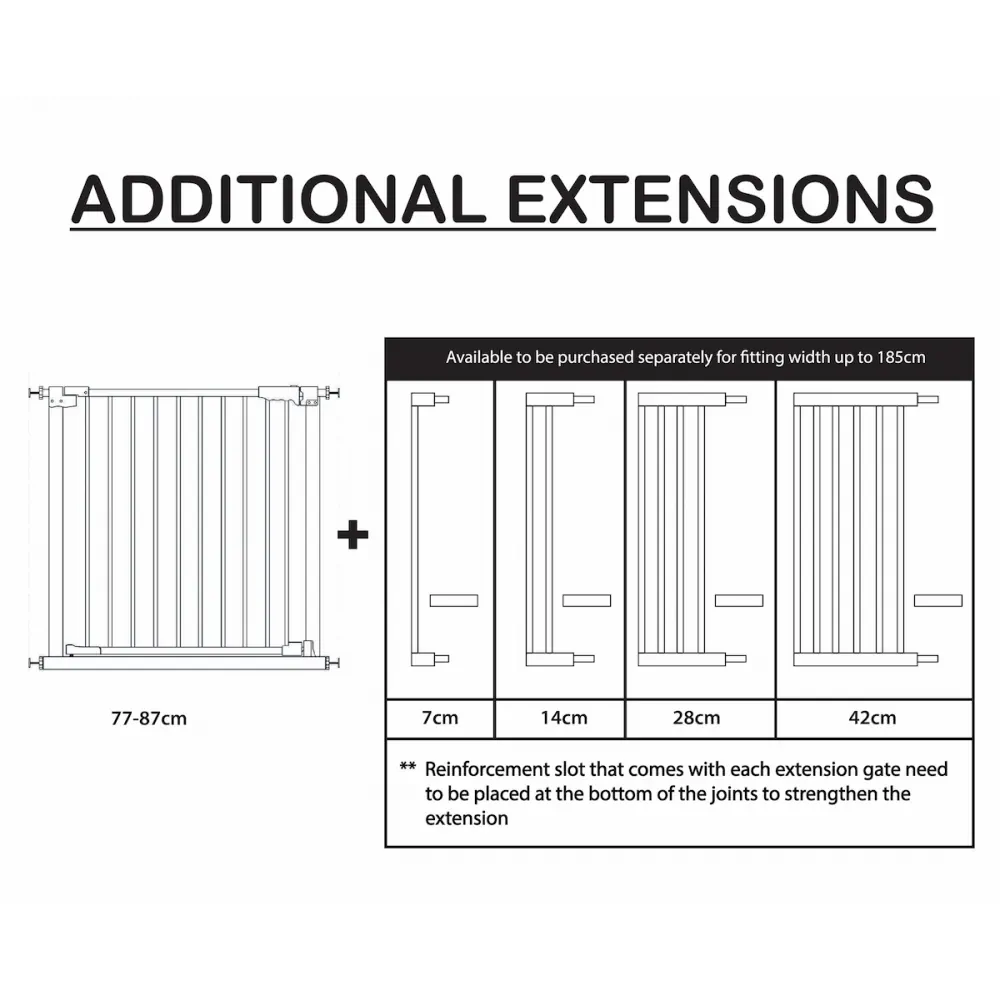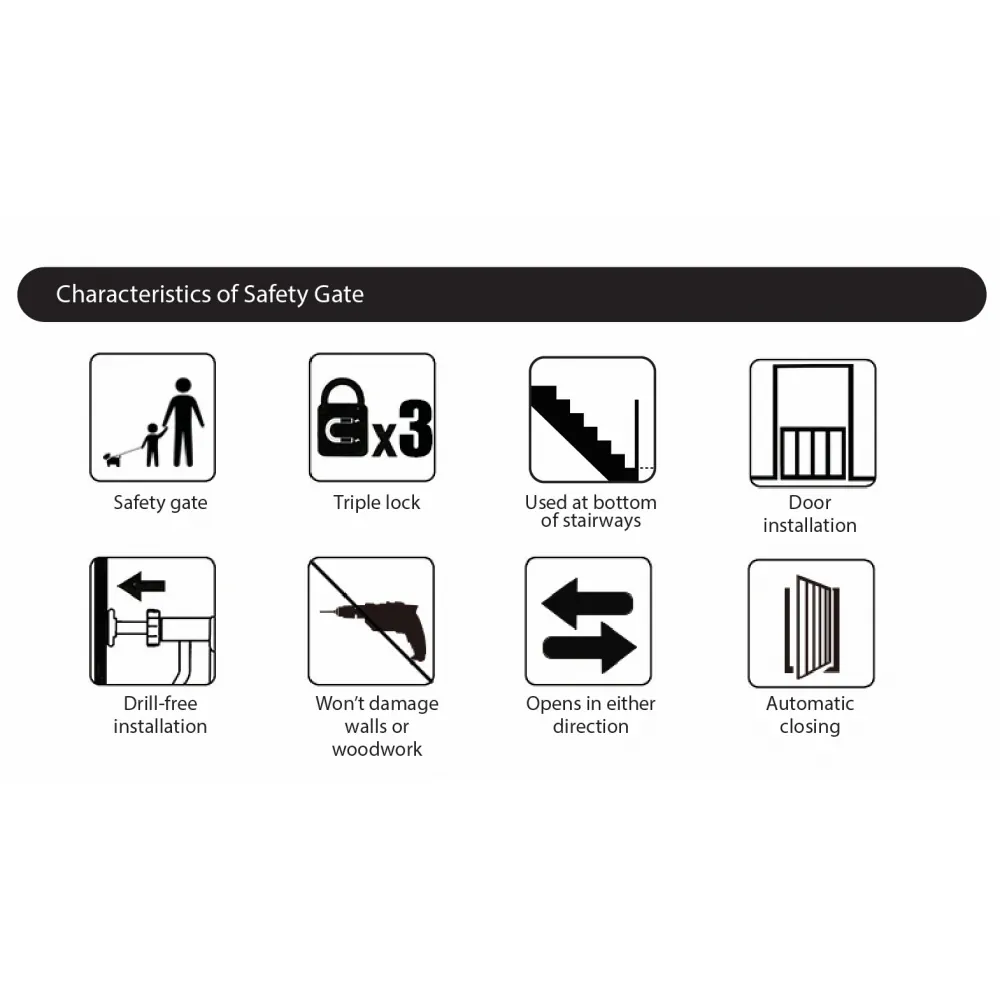 Autumnz Safety Gate Extension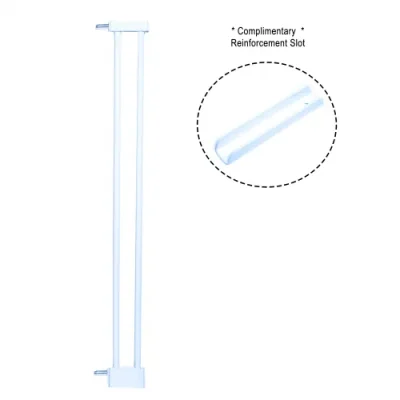 7cm Extension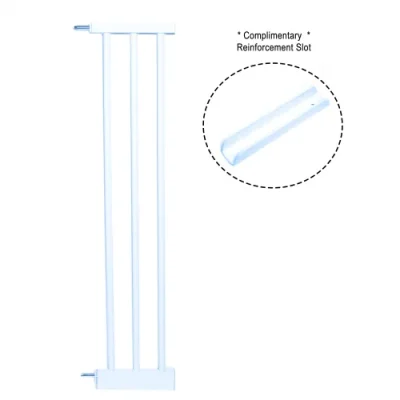 14cm Extension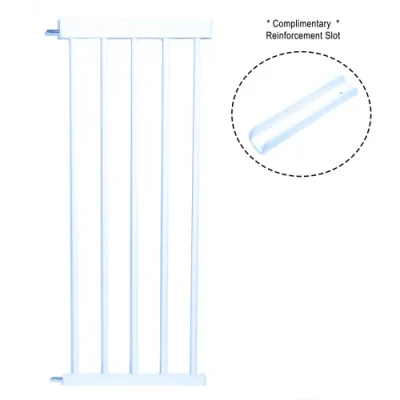 28cm Extension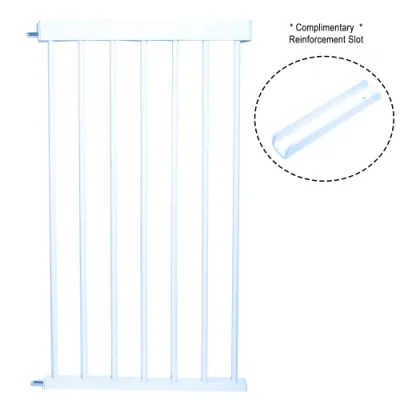 42cm Extension
Autumnz Safety U-Type Bolt | 1pc