The diaper bag is a parent's greatest friend, constant companion, tote of all.
The diaper bag is one of the most often utilized pieces of baby equipment that some new parents purchase. However, there are many various types of bags on the market, each with its own set of qualities to consider. So, which option is best for you?
What Is A Diaper Bag?
A diaper bag is a multi-functional bag use by parents to put all the essential items of their little one. Also known as a nappy bag. A diaper bag normally comes with a functional compartment and section to organize all baby items such as baby bottles, thermos flask, disposable diapers, nappy cream, baby clothes, milk powder, pacifiers, baby wipes, burp cloths, etc.
Type of Diaper Bag
There a normally 4 types of diaper bags:-
1. Backpack Diaper Bag
This type of diaper bag is normally fancier by men ( father ) because it will look more macho on them rather than a sling bag. A functional diaper backpack is also designed in such a way it looks like a laptop bag rather than a nappy bag. Currently available in the market are very much trendy compare to old school type.
2. Sling Diaper Bag / Messenger Bag
This type of diaper bag normally likes by most mommies. Designs are all very trendy and some even look like a designer bag. People will not realize you are carrying a nappy bag at all. These are worn across the body and are more comfortable than totes if you need to carry them for an extended amount of time.
You will find most top brands for diaper bags having this type of diaper bag due to its market segment – for women.
3. Convertible Diaper Bag
Depending on how the straps are arranged, some diaper bags can be used as a backpack, tote, or messenger bag. If you want to be able to mix up how you carry your baby's belongings, these are a fantastic option, but they are on the larger side.
4. Totes Diaper Bag
These are extremely capacious, making them ideal for a day out or a weekend getaway. To stay organized, go for one with compartments and pockets.
Do You Need A Diaper Bag?
The answer is yes. As you are traveling with your baby, you need to bring all the baby's essential things together. A diaper bag is very useful and convenient. Most diaper bags will come with a changing mat to allow the baby to change a diaper when needed.
Can I Use Another Bag As A Diaper Bag?
The answer is also Yes. However, it is not so convenient as the limited compartment and space of the bag. A diaper bag is equipped with many insulated bottle holders and small compartments to hold babies items. It helps to organized all baby items in place. Parents will not be panicked or have a difficult time locating baby items.
What Do You Put In The Diaper Bag?
Disposable Diapers
Nappy Cream
Baby Wipes
Baby Bottles
Milk Powder Dispenser
Thermo Flask/Vacuum Flask
Baby Clothes
Pacifier
Changing Mat
Burp Cloths

Features To Consider When Getting A Diaper Bag
Space – There is plenty of room. See the section above about how much stuff newborns require!
Easy to maintain – It's simple to clean. Whether it's dirty diapers or dirty clothes, it's a problem. Bottles that are leaking. A wipe-clean surface or even a machine-washable bag is beneficial.
Shareability. When choosing a diaper bag, keep in mind who else will be using it.
Ergonomic. You'll want something that's relaxing, means comfortable to carry.
Closure – Look for a bag with a secure closing (zippers are ideal) so that everything stays inside when you lean down or drop it. Avoid Velcro because it tends to get stuck on surfaces and can wake a sleeping infant with the noise it makes when it opens.
The base of the bag – Look for a bag that stands on its own so you can reach inside and get what you need with one hand. (When dealing with a squirming baby, making the most of every hand you have is critical.)
Color of the bag – If you're going to share the bag, choose a color or design that everyone will like (or at least tolerate). Sharing the bag saves money and time because you don't have to shift goods from one tote to another.
Other features that are nice to have in a diaper bag includes hanging stroller clips, many compartments, changing mat, insulated pockets

Best Diaper Bag in Malaysia
5) Babymel Robyn Convertible Backpack Diaper Bag
With Robyn's easy-to-use convertible strap, you may wear it as a backpack, shoulder bag, crossbody bag, or handbag. This type is made of water-resistant canvas and is both lightweight and sturdy. This design has a lot of compartments to keep all of your baby's things organized.
Pros:-
Made from Polyester materials.
Outer and lining materials are water-resistant and wipe clean.
Integrated stroller straps and multi-way strap with shoulder pad
Wide aperture with zipped closing for security Easy-wipes side pocket
For all your essentials, there are seven inside and external compartments.
Padded changing mat that is machine washable
Bottle holder with drawstring clasp and insulation
H35cm x W29cm x D15cm / H35cm x W29cm x D15cm
Cons:-
Pricy
More suitable for women only
4) Storksak Backpack Diaper Bag
This is the ultimate smart backpack, with optimum comfort, incredibly lightweight, and plenty of storage. This diaper is among the expensive diaper bag in the market.
Pros:-
Polyester with a high definition
Outer is water-resistant, and the lining is wipe-clean.
Closure with a drawstring and a buckle clip
Two insulated bottle holders are built-in (one detachable)
There are nine pockets in total: nappies, wipes, and storage.
Back and shoulder straps are padded.
Key clip on the inside
Shoulder straps are used to secure the bag to the stroller.
Changing mat included
Cons:-
Big size
Expensive investment
3) Terminus Daddy Cool (Compact Edition) Backpack
The perfect diaper bag for daddy – minimal by design & maximum in capacity.
Pros:-
High capacity with dedicated compartments
Looks cool for daddy
Ergonomic design – increase carry comfort, stability, and breathability
Durable & water repellent
Fits daddy's personal belonging too
Detachable 2 in 1 baby formula preparation station & stroller organizer
Easy to clean
Cons:-
Weight
Design is not a favor to the ladies.
No many colorful options
2) Skip Hop Forma Backpack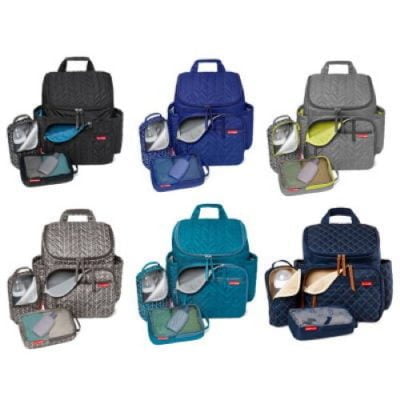 "Function Meet Fashion" is what we can describe in this Skip Hop Forma Backpack. It is lightweight and stylish. The spacious interior has room to organize all baby items in no time. extra wide opening makes it easy to find essentials in a pinch.
Pros:-
Lightweight – easy carry for mommies
Modern design and colorful
Extra-wide opening, easy to put & look for baby items
Many compartments – can organize baby items properly
Cushioned changing pad included
Cons:-
Price is on the high side
1) Princeton Urban Daddy Pro Diaper Bag (Backpack)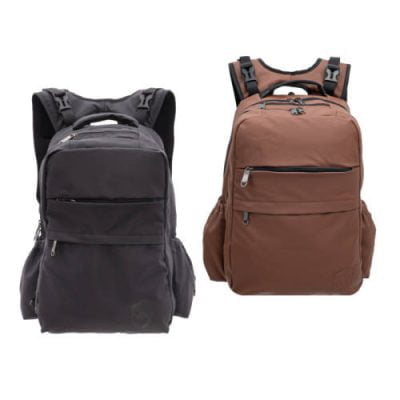 Designed for man, big & spacious. Offers many compartments and handy features such as easy access to wipes.
Pros:
Modern Looking
Many compartments to organize baby items
Insulated bottle holder
Come with a diaper changing mat
With stroller straps
Reasonable Price
Lifetime warranty on zipping
Easy to clean
Cons:-
A bit heavy
Not favorable to ladies design