What Are The Baby Sleeping Essential Products You Need To Buy!
Baby sleeps more often when they are smaller. A good sleeping environment will help the baby grow and help them in brain development too. Parents are advised to get a proper sleeping baby item for their baby. 
Again, and again, we always recommend baby products base on your lifestyle and needs. Every family has different lifestyles and needs. Over 17 years in business let us meet with more than 100 different families with different lifestyles and bought different baby products.
We have an article about the everyday baby must-have products that you can refer to for daily baby care. For this article, we will be purely discussing sleeping baby products.
This is actually an essential item for a baby. Many people do not get this item because mostly worry that the baby does not want to sleep on the baby cot. Basically, babies sleep anywhere we train them to sleep. You should let your baby sleep in their own space, being it a baby cot, playpen, travel cot, bedside cot, etc. The reason for doing so is that it is easier to separate them when they are bigger.
It is not easy to train some baby sleep on their own. The earlier you train them, the better it would be because they will be used to sleep on their own. We encounter parents telling us they regret not doing so for their firstborn and it took them 7 years to let the firstborn sleep when they plan to let him sleep in their own room. They learn from their mistake and are able to buy a baby cot for their second child. The second-born is much easier to sleep in a separate room because he was training to sleep on their own from day 1. 
In Malaysia, it is a culture for Indian families to buy a baby cot for their baby. For Malay and Chinese families, there is no such culture. It will be usually more to the news and lifestyle. In modern families, a baby cot is considered essential. 
For baby cots, the most popular one is made from wood. Pinewood is quite popular here because it is cheaper compare to other wood. The baby cot should come with few levels so that you can lower it when the baby grows up. It should also come with a side drop-down. 
One of the biggest drawbacks of getting a baby cot is that it cannot carry or travel. It is also hard to move from one place to another even comes with castors, you need to ensure the door or the opening is big enough for the baby cot to pass through. 
You can look for some of the baby cots that can convert into different usage. Some baby cots can convert to playpen mode, bedside mode, or single bed mode. Some baby cots will come with a drawer. Some will include a diaper changer. 
Standard size for baby cot in the market comes in 2 size that you can purchase the baby mattress easily – 24″ x 48″ / 60cm x 120cm or 28″ x 52″ / 70cm x 130cm. Almost pretty similar to Queen size or king size for adult size.
Usually, a baby cot can last up to 20kg, children at this age are usually is approximately 4 to 5 years old in age. 
Our range of baby cots comes from Seni Daya and ComfyBaby. 
Bedding is essential for everyone. Adults like us need a bedsheet, pillow, or bolster. The only difference is that this is smaller in size and for the baby. Usually bedding set is purchase together with a baby cot. Some baby cot packages will include baby bedding sets and the price is much more attractive. A standard baby bedding set, usually, includes Baby Pillow, bolster, comforter, cot bumper, and crib sheet. Some baby bedding sets will include a diaper stacker too in the set.
Usually, you will require 2 sets of baby bedding sets. One set will be on the baby cot and a set as a spare when you need to change the baby bedding set for cleaning, or when the baby wets the crib sheet or the bedding set.
Comfybaby, Bumble Bee, and Babylove Beddings set are among the brands in our shop.
Some mommies will like this because you can place your baby by their bedside. This is convenient especially for breastfeeding moms, you can place this bedside cot by your bed and attend to your baby when they cry for milk at night. 
Some of these bedside cots include rocking or cradle features where you can cradle your baby to sleep. Most will have a few adjustments on height to cater to different height levels of the adult beds. One side of the bedside cot can dropdown or remove so that it is easy for you to access the baby. 
Usually, the maximum weight for these products is up to 15kg usage, approximately 3 years old child. Most of the time, children up to 2 years old will not be able to sleep on this bedside cot due to the length.
---
Baby Playpen / Baby Travel Cot
Parents who travel a lot will be advised to get a playpen or travel cot for their baby. The playpen can be folded into small sizes for easy travel. Most of these are easy to fold, a travel bag will be included usually for storage when traveling so that the travel cot will not get dirty when traveling. 
You can visit the list of playpen or travel cots that are available at our store for your baby.
---
Baby Mattress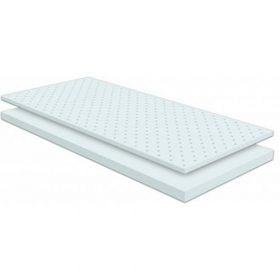 Most people will think of baby cots when it comes to mattresses. There are a few types of mattresses that you can consider for babies, such as mattresses for baby cots, mattresses for playpen or travel cots,s or travel mattresses.
Mattress cot for baby cot usually comes in few sizes (L x W x H):-
24 x 48 x 3 Inches

24 x 48 x 4 inches

28 x 52 x 3 inches

28 x 52 x 4 inches
Mattress for playpen or travel cot usually comes in few sizes (L x w x H):-
26 x 38 x 1 inches

28 x 41 x 1 inches

28 x 41 x 2 inches
For travel mattresses, most of the time, it comes in a set with a pillow and bolsters. There are many different sizes in the market subject to the brand. You need to be advised to check the size before purchasing this.
For latex mattresses, Bumble Bee will be the most popular because their latex mattress is made by the Getha factory and include 6 years warranty on the mattress. If you are looking for memory foam, you can consider the Comfybaby Memory form baby mattress
---
Pillow is important as it does help us to have a better sleep too if the suitable pillow for us. For a baby, some of our dos do not use pillows until they are about 6 months old. Mostly uses a pillow when the baby is a newborn. However, you need to buy the correct one as the newborn pillow and the toddler pillow has different thickness. 
As for the material, there are latex pillows, memory foam pillows, or the usual polyester filling pillow. Latex pillow is the most popular due to the research that it will reduce the Sudden Infant Death (SID) syndrome. For whatever pillow you are buying for your baby, you still need to be extra careful, we have read about parents puts too many pillows in the baby cot and suffocate the baby. You are advised to only use ONE pillow for your baby. 
There are also a few sizes of pillows in the market, from size S to size L, for children's pillows. Size S usually will come in a set with bolsters. You can purchase sizes M and L separately from us.
There are other types of pillows such as dimple pillows. The dimple pillow has a round shape of a hole in the middle. The design of this pillow is to ensure that the baby does not turn their face down and to prevent flat head syndrome.
---
Bolster comes in various sizes too according to the development and size of the children. As discussed at the baby pillow, size S bolster usually will come together with size s pillow in a set. There are sizes M and L available but this is usually for toddlers. Some parents do not want to train their children with bolsters. So, you need to know whether you need this for your baby or not before getting this.
---
This item was developed according to the ASEAN culture. These products are not popular in western countries. Pacifying pillow is to be put on top of the baby's chest to soothe them. This is what believe that it will give them a sense of security and have a good night's sleep.
Before this was design using the bean sprout material, many families created their own pillow by putting "rice" in the pillow. This method is not very hygienic and usually, it also does not come with a pillow cover to change or clean when it is dirty. Modern pacifying pillows solved all these issues and bean sprout are organics and include a cover for you to clean when necessary.
---
Baby Nest is not really a popular item in Malaysia. Most of the time it is due to the price and the short-term usage. This item is for you to put on your mattress that the baby will have their own space and you would not roll on top of them while sleeping with them. 
Another main issue with baby nest is that it is relatively new and not much study is done on this product on the safety of the baby. The most common issue with the sleeping issue for baby products is Sudden Infant Death (SID). So, it was not that popular and not so favored by most parents.
---
As the name mentioned, this is only used for baby cots. This is to prevent the child to bump into the side of the cot when they flip while sleeping. You will never need to buy this if you do not uses a baby cot for your baby. 
Most of the cot bumpers are in pairs in L shape. You can also skip buying this item for your baby's cot if you think this is not necessary. But if you purchase the baby cot package, usually it will be included.
---
It is among the essential item these days for many parents. With this baby changing table, you can change the baby's diaper or clothing with ease. This is very useful especially for those who have back problems and bending or sitting on the floor is an issue. 
One thing many parents are advised to be careful when using this is never to leave the baby unattended. This happens to a story we were told by few parents, they think the baby is small and does not flip yet. One day, while they were changing the diaper, they forgot the diaper had had to get it from the closes 2 meters away. They went and get it and the minutes they turn to attend to the baby, the baby is already on the floor crying. Baby neve tells you when they start turning. 
Nevertheless, the item is safe to use, only you are advised to use it correctly and never leave the baby unattended.
---
There are a few types of blankets in the market for babies. The thermal blanket was quite popular at one time but it is less popular because most children care in the air-conditional environment these days. Thermal blankets are like knitted blankets with lots of holes that can provide enough warmth to the baby and are not really too hot for them. 
The cotton blanket is still quite popular. Muslin blanket is also among the popular items that many parents bought for their babies. Usually, many people will be using swaddle blankets for their babies when they are less than 3 months old. This is because a swaddle blanket is used to swaddle the baby as though they are still being protected and feel like in the mother's womb. 
For a blanket, it is usually recommended to prepared 2-3 pieces as sometimes the baby will sometimes wet the bed or the blanket. It is best to have a spare piece of blanket.
---
Baby Bouncer or Baby Swing or Baby Rocker
It has become so essential these days for this item. It was grouped in one but there are parents which bought all 3 of the mentioned. All 3 items come with the same functions but then again each of them comes with different features and usage.
The Baby bouncer is more for the infant to take a nap or for parents to place their baby temporarily when they are in the living room or places that they want to put their child for a short period of time. The baby bouncer can only be moved up and down. Basically, the baby bouncer is only been using for a short period of time. Most babies will not want to be sleeping or lying down when they can support their heads.
The baby swing moves from side to side. It can be swivel side to side or sling side to side depending on the design of the baby swing. Usually, the baby swing is also not used for a long period of time. One of the cons of getting this is that the child might be used to swing so much that you must bring this item along everywhere whenever you travel with your child. 
The baby rocker moves like a cradle, but usually front to back whereas the baby cradle moves side to side. You will rock the baby to nap with this rocker and also you can use this to place them during the daytime. Some rockers come with vibration features to soothe the baby to sleep. Fisher-Price rockers are among the most famous with these products. Check out these great Fisher-Price rockers at our store.
---
It is good to have this for those who are not very organized. Well, some very organized mothers also bought this to organized the baby?s diaper so that they can access it easily when they need to change their baby?s diaper at the baby cot or baby changing table. The most baby changing table comes with compartments and some parents do not even bother to consider this with their baby changing table.
---
Mosquito Net and stand are not really essential when your house is in a high-rise building. But it is really popular in Malaysia, partly due to our weather. Usually, you need to be more specific and careful when buying this as there are a few different designs and also depending on where you would like to use this mosquito net and stand for your child.
If you would like to use it for the baby cot, you need to check only the mosquito net and stand for the baby cot. Size mosquito net and stand for the baby cot has various sizes. And also if you need to use it for the playpen, you need to measure the size of the travel cot or playpen. It is almost impossible to install a mosquito net and/or stand to a travel cot or playpen separately unless it comes with it in a package.
There is also another type of mosquito net which you can use when your baby is sleeping on a mattress but on a floor. Some of these mosquito nets can be double as a playpen mosquito net.
---
The baby spring cot is also called a baby cradle in some places. It is still very popular in Malaysia because of its effectiveness. Many parents who look for a baby spring cot are satisfied because they are able to put their baby to sleep (usually) after they bought this for their babies. 
Parents are advised to be careful when buying a baby spring cot. Stability and quality are of utmost considerations parents should take note of. You would not want your baby to fall down when using a baby cradle. You are also advised to check on the extra safety features such as a safety belt and also the quality of the frame when buying this for your baby.
The quality baby spring cot is usually much higher in price and heavy. Some with stainless steel finishing and some are epoxy finishing. The latter is much cheaper in price.
Our most popular spring cot is from this brand My Dear which is very popular among parents due to its quality and stability.
---
Some parents need this after they bought the baby spring cot would get this for their baby as some baby loves to be cradle most of the time. 
There are a few types of baby electric cradles in the market. Usually, most baby electric cradles will come with speed control, some will include a timer. There are also some designed with a small light for you to on when attending to baby so that you do not need to on the room light and wake the whole room. 
The usage of the number of springs on the baby spring cot when using baby electric cradle is very crucial and most parents are advised to take note. You need to check your baby?s weight and use it according to the number of springs required. If you use the wrong number of springs, the baby electric cradle might break easily due to overwork. On the other hand, if you use too little spring, the cradle will move too fast and you might risk your child?s safety.
---
The baby sleeping bag is not popular here in Malaysia could be due to the weather here. Our weather here is hot most of the time except during the rainy seasons. The baby sleeping bag is a thick blanket that you put the baby inside and the design is like wearing a thick shirt while sleeping. The baby sleeping bag is designed to avoid Sudden Infant Death Syndrome in babies.
There are still parents looking for this item because some babies sleep in the air-conditional room since birth and parents would want to keep them warm. The baby sleeping bag is one item that parents would consider replacing the baby blanket
---
Verdict
These above-mentioned baby products are important for sleeping usage. And again, we would like to reiterate that you might not need to buy all the product mentioned. But only what you need according to your lifestyle and usage.